Deprecated
: Function eregi() is deprecated in
/srv/disk3/afroblog/www/afroblog.awardspace.com/php/show_news.php
on line
41
Deprecated
: Function eregi() is deprecated in
/srv/disk3/afroblog/www/afroblog.awardspace.com/php/inc/shows.inc.php
on line
54
Deprecated
: Function eregi() is deprecated in
/srv/disk3/afroblog/www/afroblog.awardspace.com/php/inc/shows.inc.php
on line
54
Deprecated
: Function eregi() is deprecated in
/srv/disk3/afroblog/www/afroblog.awardspace.com/php/inc/shows.inc.php
on line
54
Deprecated
: Function eregi() is deprecated in
/srv/disk3/afroblog/www/afroblog.awardspace.com/php/inc/shows.inc.php
on line
54
Deprecated
: Function eregi() is deprecated in
/srv/disk3/afroblog/www/afroblog.awardspace.com/php/inc/shows.inc.php
on line
54
Deprecated
: Function eregi() is deprecated in
/srv/disk3/afroblog/www/afroblog.awardspace.com/php/inc/shows.inc.php
on line
54
Deprecated
: Function eregi() is deprecated in
/srv/disk3/afroblog/www/afroblog.awardspace.com/php/inc/shows.inc.php
on line
54
Deprecated
: Function eregi() is deprecated in
/srv/disk3/afroblog/www/afroblog.awardspace.com/php/inc/shows.inc.php
on line
54
Deprecated
: Function eregi() is deprecated in
/srv/disk3/afroblog/www/afroblog.awardspace.com/php/inc/shows.inc.php
on line
54
Deprecated
: Function eregi() is deprecated in
/srv/disk3/afroblog/www/afroblog.awardspace.com/php/inc/shows.inc.php
on line
54
Deprecated
: Function eregi() is deprecated in
/srv/disk3/afroblog/www/afroblog.awardspace.com/php/inc/shows.inc.php
on line
54
Deprecated
: Function eregi() is deprecated in
/srv/disk3/afroblog/www/afroblog.awardspace.com/php/inc/shows.inc.php
on line
54
Deprecated
: Function eregi() is deprecated in
/srv/disk3/afroblog/www/afroblog.awardspace.com/php/inc/shows.inc.php
on line
54
Deprecated
: Function eregi() is deprecated in
/srv/disk3/afroblog/www/afroblog.awardspace.com/php/inc/shows.inc.php
on line
54
Deprecated
: Function eregi() is deprecated in
/srv/disk3/afroblog/www/afroblog.awardspace.com/php/inc/shows.inc.php
on line
54
Deprecated
: Function eregi() is deprecated in
/srv/disk3/afroblog/www/afroblog.awardspace.com/php/inc/shows.inc.php
on line
54
Deprecated
: Function eregi() is deprecated in
/srv/disk3/afroblog/www/afroblog.awardspace.com/php/inc/shows.inc.php
on line
54
Deprecated
: Function eregi() is deprecated in
/srv/disk3/afroblog/www/afroblog.awardspace.com/php/inc/shows.inc.php
on line
54
Deprecated
: Function eregi() is deprecated in
/srv/disk3/afroblog/www/afroblog.awardspace.com/php/inc/shows.inc.php
on line
54
Deprecated
: Function eregi() is deprecated in
/srv/disk3/afroblog/www/afroblog.awardspace.com/php/inc/shows.inc.php
on line
54
Deprecated
: Function eregi() is deprecated in
/srv/disk3/afroblog/www/afroblog.awardspace.com/php/inc/shows.inc.php
on line
54
Deprecated
: Function eregi() is deprecated in
/srv/disk3/afroblog/www/afroblog.awardspace.com/php/inc/shows.inc.php
on line
54
Deprecated
: Function eregi() is deprecated in
/srv/disk3/afroblog/www/afroblog.awardspace.com/php/inc/shows.inc.php
on line
54
Deprecated
: Function eregi() is deprecated in
/srv/disk3/afroblog/www/afroblog.awardspace.com/php/inc/shows.inc.php
on line
54
Deprecated
: Function eregi() is deprecated in
/srv/disk3/afroblog/www/afroblog.awardspace.com/php/inc/shows.inc.php
on line
54
Deprecated
: Function eregi() is deprecated in
/srv/disk3/afroblog/www/afroblog.awardspace.com/php/inc/shows.inc.php
on line
54
Deprecated
: Function eregi() is deprecated in
/srv/disk3/afroblog/www/afroblog.awardspace.com/php/inc/shows.inc.php
on line
54
Deprecated
: Function eregi() is deprecated in
/srv/disk3/afroblog/www/afroblog.awardspace.com/php/inc/shows.inc.php
on line
54
Deprecated
: Function eregi() is deprecated in
/srv/disk3/afroblog/www/afroblog.awardspace.com/php/inc/shows.inc.php
on line
54
Deprecated
: Function eregi() is deprecated in
/srv/disk3/afroblog/www/afroblog.awardspace.com/php/inc/shows.inc.php
on line
54
Deprecated
: Function eregi() is deprecated in
/srv/disk3/afroblog/www/afroblog.awardspace.com/php/inc/shows.inc.php
on line
54
Deprecated
: Function eregi() is deprecated in
/srv/disk3/afroblog/www/afroblog.awardspace.com/php/inc/shows.inc.php
on line
54
Deprecated
: Function eregi() is deprecated in
/srv/disk3/afroblog/www/afroblog.awardspace.com/php/inc/shows.inc.php
on line
54
Deprecated
: Function eregi() is deprecated in
/srv/disk3/afroblog/www/afroblog.awardspace.com/php/inc/shows.inc.php
on line
54
Deprecated
: Function eregi() is deprecated in
/srv/disk3/afroblog/www/afroblog.awardspace.com/php/inc/shows.inc.php
on line
54
Deprecated
: Function eregi() is deprecated in
/srv/disk3/afroblog/www/afroblog.awardspace.com/php/inc/shows.inc.php
on line
54
Deprecated
: Function eregi() is deprecated in
/srv/disk3/afroblog/www/afroblog.awardspace.com/php/inc/shows.inc.php
on line
54
Deprecated
: Function eregi() is deprecated in
/srv/disk3/afroblog/www/afroblog.awardspace.com/php/inc/shows.inc.php
on line
54
Deprecated
: Function eregi() is deprecated in
/srv/disk3/afroblog/www/afroblog.awardspace.com/php/inc/shows.inc.php
on line
54
Deprecated
: Function eregi() is deprecated in
/srv/disk3/afroblog/www/afroblog.awardspace.com/php/inc/shows.inc.php
on line
54
Deprecated
: Function eregi() is deprecated in
/srv/disk3/afroblog/www/afroblog.awardspace.com/php/inc/shows.inc.php
on line
54
Deprecated
: Function eregi() is deprecated in
/srv/disk3/afroblog/www/afroblog.awardspace.com/php/inc/shows.inc.php
on line
54
Deprecated
: Function eregi() is deprecated in
/srv/disk3/afroblog/www/afroblog.awardspace.com/php/inc/shows.inc.php
on line
54
Deprecated
: Function eregi() is deprecated in
/srv/disk3/afroblog/www/afroblog.awardspace.com/php/inc/shows.inc.php
on line
54
Deprecated
: Function eregi() is deprecated in
/srv/disk3/afroblog/www/afroblog.awardspace.com/php/inc/shows.inc.php
on line
54
Deprecated
: Function eregi() is deprecated in
/srv/disk3/afroblog/www/afroblog.awardspace.com/php/inc/shows.inc.php
on line
54
Deprecated
: Function eregi() is deprecated in
/srv/disk3/afroblog/www/afroblog.awardspace.com/php/inc/shows.inc.php
on line
54
Deprecated
: Function eregi() is deprecated in
/srv/disk3/afroblog/www/afroblog.awardspace.com/php/inc/shows.inc.php
on line
54
Deprecated
: Function eregi() is deprecated in
/srv/disk3/afroblog/www/afroblog.awardspace.com/php/inc/shows.inc.php
on line
54
Deprecated
: Function eregi() is deprecated in
/srv/disk3/afroblog/www/afroblog.awardspace.com/php/inc/shows.inc.php
on line
54
Deprecated
: Function eregi() is deprecated in
/srv/disk3/afroblog/www/afroblog.awardspace.com/php/inc/shows.inc.php
on line
54
Deprecated
: Function eregi() is deprecated in
/srv/disk3/afroblog/www/afroblog.awardspace.com/php/inc/shows.inc.php
on line
54
Deprecated
: Function eregi() is deprecated in
/srv/disk3/afroblog/www/afroblog.awardspace.com/php/inc/shows.inc.php
on line
54
Deprecated
: Function eregi() is deprecated in
/srv/disk3/afroblog/www/afroblog.awardspace.com/php/inc/shows.inc.php
on line
54
Deprecated
: Function eregi() is deprecated in
/srv/disk3/afroblog/www/afroblog.awardspace.com/php/inc/shows.inc.php
on line
54
Deprecated
: Function eregi() is deprecated in
/srv/disk3/afroblog/www/afroblog.awardspace.com/php/inc/shows.inc.php
on line
54
Deprecated
: Function eregi() is deprecated in
/srv/disk3/afroblog/www/afroblog.awardspace.com/php/inc/shows.inc.php
on line
54
Deprecated
: Function eregi() is deprecated in
/srv/disk3/afroblog/www/afroblog.awardspace.com/php/inc/shows.inc.php
on line
54
Deprecated
: Function eregi() is deprecated in
/srv/disk3/afroblog/www/afroblog.awardspace.com/php/inc/shows.inc.php
on line
54
Deprecated
: Function eregi() is deprecated in
/srv/disk3/afroblog/www/afroblog.awardspace.com/php/inc/shows.inc.php
on line
54
Deprecated
: Function eregi() is deprecated in
/srv/disk3/afroblog/www/afroblog.awardspace.com/php/inc/shows.inc.php
on line
54
Deprecated
: Function eregi() is deprecated in
/srv/disk3/afroblog/www/afroblog.awardspace.com/php/inc/shows.inc.php
on line
54
Deprecated
: Function eregi() is deprecated in
/srv/disk3/afroblog/www/afroblog.awardspace.com/php/inc/shows.inc.php
on line
54
Deprecated
: Function eregi() is deprecated in
/srv/disk3/afroblog/www/afroblog.awardspace.com/php/inc/shows.inc.php
on line
54
Deprecated
: Function eregi() is deprecated in
/srv/disk3/afroblog/www/afroblog.awardspace.com/php/inc/shows.inc.php
on line
54
Deprecated
: Function eregi() is deprecated in
/srv/disk3/afroblog/www/afroblog.awardspace.com/php/inc/shows.inc.php
on line
54
Deprecated
: Function eregi() is deprecated in
/srv/disk3/afroblog/www/afroblog.awardspace.com/php/inc/shows.inc.php
on line
54
Deprecated
: Function eregi() is deprecated in
/srv/disk3/afroblog/www/afroblog.awardspace.com/php/inc/shows.inc.php
on line
54
Deprecated
: Function eregi() is deprecated in
/srv/disk3/afroblog/www/afroblog.awardspace.com/php/inc/shows.inc.php
on line
54
Deprecated
: Function eregi() is deprecated in
/srv/disk3/afroblog/www/afroblog.awardspace.com/php/inc/shows.inc.php
on line
54
Deprecated
: Function eregi() is deprecated in
/srv/disk3/afroblog/www/afroblog.awardspace.com/php/inc/shows.inc.php
on line
54
Deprecated
: Function eregi() is deprecated in
/srv/disk3/afroblog/www/afroblog.awardspace.com/php/inc/shows.inc.php
on line
54
Deprecated
: Function eregi() is deprecated in
/srv/disk3/afroblog/www/afroblog.awardspace.com/php/inc/shows.inc.php
on line
54
Deprecated
: Function eregi() is deprecated in
/srv/disk3/afroblog/www/afroblog.awardspace.com/php/inc/shows.inc.php
on line
54
Deprecated
: Function eregi() is deprecated in
/srv/disk3/afroblog/www/afroblog.awardspace.com/php/inc/shows.inc.php
on line
54
Deprecated
: Function eregi() is deprecated in
/srv/disk3/afroblog/www/afroblog.awardspace.com/php/inc/shows.inc.php
on line
54
Deprecated
: Function eregi() is deprecated in
/srv/disk3/afroblog/www/afroblog.awardspace.com/php/inc/shows.inc.php
on line
54
Deprecated
: Function eregi() is deprecated in
/srv/disk3/afroblog/www/afroblog.awardspace.com/php/inc/shows.inc.php
on line
54
Deprecated
: Function eregi() is deprecated in
/srv/disk3/afroblog/www/afroblog.awardspace.com/php/inc/shows.inc.php
on line
54
Deprecated
: Function eregi() is deprecated in
/srv/disk3/afroblog/www/afroblog.awardspace.com/php/inc/shows.inc.php
on line
54
Deprecated
: Function eregi() is deprecated in
/srv/disk3/afroblog/www/afroblog.awardspace.com/php/inc/shows.inc.php
on line
54
Deprecated
: Function eregi() is deprecated in
/srv/disk3/afroblog/www/afroblog.awardspace.com/php/inc/shows.inc.php
on line
54
Deprecated
: Function eregi() is deprecated in
/srv/disk3/afroblog/www/afroblog.awardspace.com/php/inc/shows.inc.php
on line
54
Deprecated
: Function eregi() is deprecated in
/srv/disk3/afroblog/www/afroblog.awardspace.com/php/inc/shows.inc.php
on line
54
Deprecated
: Function eregi() is deprecated in
/srv/disk3/afroblog/www/afroblog.awardspace.com/php/inc/shows.inc.php
on line
54
Deprecated
: Function eregi() is deprecated in
/srv/disk3/afroblog/www/afroblog.awardspace.com/php/inc/shows.inc.php
on line
54
Deprecated
: Function eregi() is deprecated in
/srv/disk3/afroblog/www/afroblog.awardspace.com/php/inc/shows.inc.php
on line
54
Deprecated
: Function eregi() is deprecated in
/srv/disk3/afroblog/www/afroblog.awardspace.com/php/inc/shows.inc.php
on line
54
Deprecated
: Function eregi() is deprecated in
/srv/disk3/afroblog/www/afroblog.awardspace.com/php/inc/shows.inc.php
on line
54
Deprecated
: Function eregi() is deprecated in
/srv/disk3/afroblog/www/afroblog.awardspace.com/php/inc/shows.inc.php
on line
54
Deprecated
: Function eregi() is deprecated in
/srv/disk3/afroblog/www/afroblog.awardspace.com/php/inc/shows.inc.php
on line
54
Deprecated
: Function eregi() is deprecated in
/srv/disk3/afroblog/www/afroblog.awardspace.com/php/inc/shows.inc.php
on line
54
Deprecated
: Function eregi() is deprecated in
/srv/disk3/afroblog/www/afroblog.awardspace.com/php/inc/shows.inc.php
on line
54
Deprecated
: Function eregi() is deprecated in
/srv/disk3/afroblog/www/afroblog.awardspace.com/php/inc/shows.inc.php
on line
54
Deprecated
: Function eregi() is deprecated in
/srv/disk3/afroblog/www/afroblog.awardspace.com/php/inc/shows.inc.php
on line
54
Deprecated
: Function eregi() is deprecated in
/srv/disk3/afroblog/www/afroblog.awardspace.com/php/inc/shows.inc.php
on line
54
Deprecated
: Function eregi() is deprecated in
/srv/disk3/afroblog/www/afroblog.awardspace.com/php/inc/shows.inc.php
on line
54
Deprecated
: Function eregi() is deprecated in
/srv/disk3/afroblog/www/afroblog.awardspace.com/php/inc/shows.inc.php
on line
54
Deprecated
: Function eregi() is deprecated in
/srv/disk3/afroblog/www/afroblog.awardspace.com/php/inc/shows.inc.php
on line
54
Deprecated
: Function eregi() is deprecated in
/srv/disk3/afroblog/www/afroblog.awardspace.com/php/inc/shows.inc.php
on line
54
Deprecated
: Function eregi() is deprecated in
/srv/disk3/afroblog/www/afroblog.awardspace.com/php/inc/shows.inc.php
on line
54
Deprecated
: Function eregi() is deprecated in
/srv/disk3/afroblog/www/afroblog.awardspace.com/php/inc/shows.inc.php
on line
54
Deprecated
: Function eregi() is deprecated in
/srv/disk3/afroblog/www/afroblog.awardspace.com/php/inc/shows.inc.php
on line
54
Deprecated
: Function eregi() is deprecated in
/srv/disk3/afroblog/www/afroblog.awardspace.com/php/inc/shows.inc.php
on line
54
Deprecated
: Function eregi() is deprecated in
/srv/disk3/afroblog/www/afroblog.awardspace.com/php/inc/shows.inc.php
on line
54
Deprecated
: Function eregi() is deprecated in
/srv/disk3/afroblog/www/afroblog.awardspace.com/php/inc/shows.inc.php
on line
54
Deprecated
: Function eregi() is deprecated in
/srv/disk3/afroblog/www/afroblog.awardspace.com/php/inc/shows.inc.php
on line
54
Deprecated
: Function eregi() is deprecated in
/srv/disk3/afroblog/www/afroblog.awardspace.com/php/inc/shows.inc.php
on line
54
Deprecated
: Function eregi() is deprecated in
/srv/disk3/afroblog/www/afroblog.awardspace.com/php/inc/shows.inc.php
on line
54
Deprecated
: Function eregi() is deprecated in
/srv/disk3/afroblog/www/afroblog.awardspace.com/php/inc/shows.inc.php
on line
54
Deprecated
: Function eregi() is deprecated in
/srv/disk3/afroblog/www/afroblog.awardspace.com/php/inc/shows.inc.php
on line
54
Deprecated
: Function eregi() is deprecated in
/srv/disk3/afroblog/www/afroblog.awardspace.com/php/inc/shows.inc.php
on line
54
Deprecated
: Function eregi() is deprecated in
/srv/disk3/afroblog/www/afroblog.awardspace.com/php/inc/shows.inc.php
on line
54
Deprecated
: Function eregi() is deprecated in
/srv/disk3/afroblog/www/afroblog.awardspace.com/php/inc/shows.inc.php
on line
54
Deprecated
: Function eregi() is deprecated in
/srv/disk3/afroblog/www/afroblog.awardspace.com/php/inc/shows.inc.php
on line
54
Deprecated
: Function eregi() is deprecated in
/srv/disk3/afroblog/www/afroblog.awardspace.com/php/inc/shows.inc.php
on line
54
Deprecated
: Function eregi() is deprecated in
/srv/disk3/afroblog/www/afroblog.awardspace.com/php/inc/shows.inc.php
on line
54
Deprecated
: Function eregi() is deprecated in
/srv/disk3/afroblog/www/afroblog.awardspace.com/php/inc/shows.inc.php
on line
54
Deprecated
: Function eregi() is deprecated in
/srv/disk3/afroblog/www/afroblog.awardspace.com/php/inc/shows.inc.php
on line
54
Deprecated
: Function eregi() is deprecated in
/srv/disk3/afroblog/www/afroblog.awardspace.com/php/inc/shows.inc.php
on line
54
Deprecated
: Function eregi() is deprecated in
/srv/disk3/afroblog/www/afroblog.awardspace.com/php/inc/shows.inc.php
on line
54
Deprecated
: Function eregi() is deprecated in
/srv/disk3/afroblog/www/afroblog.awardspace.com/php/inc/shows.inc.php
on line
54
Deprecated
: Function eregi() is deprecated in
/srv/disk3/afroblog/www/afroblog.awardspace.com/php/inc/shows.inc.php
on line
54
Deprecated
: Function eregi() is deprecated in
/srv/disk3/afroblog/www/afroblog.awardspace.com/php/inc/shows.inc.php
on line
54
Deprecated
: Function eregi() is deprecated in
/srv/disk3/afroblog/www/afroblog.awardspace.com/php/inc/shows.inc.php
on line
54
Deprecated
: Function eregi() is deprecated in
/srv/disk3/afroblog/www/afroblog.awardspace.com/php/inc/shows.inc.php
on line
54
Deprecated
: Function eregi() is deprecated in
/srv/disk3/afroblog/www/afroblog.awardspace.com/php/inc/shows.inc.php
on line
54
Deprecated
: Function eregi() is deprecated in
/srv/disk3/afroblog/www/afroblog.awardspace.com/php/inc/shows.inc.php
on line
54
Deprecated
: Function eregi() is deprecated in
/srv/disk3/afroblog/www/afroblog.awardspace.com/php/inc/shows.inc.php
on line
54
Deprecated
: Function eregi() is deprecated in
/srv/disk3/afroblog/www/afroblog.awardspace.com/php/inc/shows.inc.php
on line
54
Deprecated
: Function eregi() is deprecated in
/srv/disk3/afroblog/www/afroblog.awardspace.com/php/inc/shows.inc.php
on line
54
Deprecated
: Function eregi() is deprecated in
/srv/disk3/afroblog/www/afroblog.awardspace.com/php/inc/shows.inc.php
on line
54
Deprecated
: Function eregi() is deprecated in
/srv/disk3/afroblog/www/afroblog.awardspace.com/php/inc/shows.inc.php
on line
54
Deprecated
: Function eregi() is deprecated in
/srv/disk3/afroblog/www/afroblog.awardspace.com/php/inc/shows.inc.php
on line
54
Deprecated
: Function eregi() is deprecated in
/srv/disk3/afroblog/www/afroblog.awardspace.com/php/inc/shows.inc.php
on line
54
Deprecated
: Function eregi() is deprecated in
/srv/disk3/afroblog/www/afroblog.awardspace.com/php/inc/shows.inc.php
on line
54
Deprecated
: Function eregi() is deprecated in
/srv/disk3/afroblog/www/afroblog.awardspace.com/php/inc/shows.inc.php
on line
54
Deprecated
: Function eregi() is deprecated in
/srv/disk3/afroblog/www/afroblog.awardspace.com/php/inc/shows.inc.php
on line
54
Deprecated
: Function eregi() is deprecated in
/srv/disk3/afroblog/www/afroblog.awardspace.com/php/inc/shows.inc.php
on line
54
Deprecated
: Function eregi() is deprecated in
/srv/disk3/afroblog/www/afroblog.awardspace.com/php/inc/shows.inc.php
on line
54
Deprecated
: Function eregi() is deprecated in
/srv/disk3/afroblog/www/afroblog.awardspace.com/php/inc/shows.inc.php
on line
54
Deprecated
: Function eregi() is deprecated in
/srv/disk3/afroblog/www/afroblog.awardspace.com/php/inc/shows.inc.php
on line
54
Deprecated
: Function eregi() is deprecated in
/srv/disk3/afroblog/www/afroblog.awardspace.com/php/inc/shows.inc.php
on line
54
Deprecated
: Function eregi() is deprecated in
/srv/disk3/afroblog/www/afroblog.awardspace.com/php/inc/shows.inc.php
on line
54
Deprecated
: Function eregi() is deprecated in
/srv/disk3/afroblog/www/afroblog.awardspace.com/php/inc/shows.inc.php
on line
54
Deprecated
: Function eregi() is deprecated in
/srv/disk3/afroblog/www/afroblog.awardspace.com/php/inc/shows.inc.php
on line
54
Deprecated
: Function eregi() is deprecated in
/srv/disk3/afroblog/www/afroblog.awardspace.com/php/inc/shows.inc.php
on line
54
Deprecated
: Function eregi() is deprecated in
/srv/disk3/afroblog/www/afroblog.awardspace.com/php/inc/shows.inc.php
on line
54
Deprecated
: Function eregi() is deprecated in
/srv/disk3/afroblog/www/afroblog.awardspace.com/php/inc/shows.inc.php
on line
54
Deprecated
: Function eregi() is deprecated in
/srv/disk3/afroblog/www/afroblog.awardspace.com/php/inc/shows.inc.php
on line
54
Deprecated
: Function eregi() is deprecated in
/srv/disk3/afroblog/www/afroblog.awardspace.com/php/inc/shows.inc.php
on line
54
Deprecated
: Function eregi() is deprecated in
/srv/disk3/afroblog/www/afroblog.awardspace.com/php/inc/shows.inc.php
on line
54
Deprecated
: Function eregi() is deprecated in
/srv/disk3/afroblog/www/afroblog.awardspace.com/php/inc/shows.inc.php
on line
54
Deprecated
: Function eregi() is deprecated in
/srv/disk3/afroblog/www/afroblog.awardspace.com/php/inc/shows.inc.php
on line
54
Deprecated
: Function eregi() is deprecated in
/srv/disk3/afroblog/www/afroblog.awardspace.com/php/inc/shows.inc.php
on line
54
Deprecated
: Function eregi() is deprecated in
/srv/disk3/afroblog/www/afroblog.awardspace.com/php/inc/shows.inc.php
on line
54
Deprecated
: Function eregi() is deprecated in
/srv/disk3/afroblog/www/afroblog.awardspace.com/php/inc/shows.inc.php
on line
54
Deprecated
: Function eregi() is deprecated in
/srv/disk3/afroblog/www/afroblog.awardspace.com/php/inc/shows.inc.php
on line
54
Deprecated
: Function eregi() is deprecated in
/srv/disk3/afroblog/www/afroblog.awardspace.com/php/inc/shows.inc.php
on line
54
Deprecated
: Function eregi() is deprecated in
/srv/disk3/afroblog/www/afroblog.awardspace.com/php/inc/shows.inc.php
on line
54
Deprecated
: Function eregi() is deprecated in
/srv/disk3/afroblog/www/afroblog.awardspace.com/php/inc/shows.inc.php
on line
54
Deprecated
: Function eregi() is deprecated in
/srv/disk3/afroblog/www/afroblog.awardspace.com/php/inc/shows.inc.php
on line
54
Deprecated
: Function eregi() is deprecated in
/srv/disk3/afroblog/www/afroblog.awardspace.com/php/inc/shows.inc.php
on line
54
Deprecated
: Function eregi() is deprecated in
/srv/disk3/afroblog/www/afroblog.awardspace.com/php/inc/shows.inc.php
on line
54
Deprecated
: Function eregi() is deprecated in
/srv/disk3/afroblog/www/afroblog.awardspace.com/php/inc/shows.inc.php
on line
54
Deprecated
: Function eregi() is deprecated in
/srv/disk3/afroblog/www/afroblog.awardspace.com/php/inc/shows.inc.php
on line
54
Deprecated
: Function eregi() is deprecated in
/srv/disk3/afroblog/www/afroblog.awardspace.com/php/inc/shows.inc.php
on line
54
Deprecated
: Function eregi() is deprecated in
/srv/disk3/afroblog/www/afroblog.awardspace.com/php/inc/shows.inc.php
on line
54
Deprecated
: Function eregi() is deprecated in
/srv/disk3/afroblog/www/afroblog.awardspace.com/php/inc/shows.inc.php
on line
54
Deprecated
: Function eregi() is deprecated in
/srv/disk3/afroblog/www/afroblog.awardspace.com/php/inc/shows.inc.php
on line
54
Deprecated
: Function eregi() is deprecated in
/srv/disk3/afroblog/www/afroblog.awardspace.com/php/inc/shows.inc.php
on line
54
Deprecated
: Function eregi() is deprecated in
/srv/disk3/afroblog/www/afroblog.awardspace.com/php/inc/shows.inc.php
on line
54
Deprecated
: Function eregi() is deprecated in
/srv/disk3/afroblog/www/afroblog.awardspace.com/php/inc/shows.inc.php
on line
54
Deprecated
: Function eregi() is deprecated in
/srv/disk3/afroblog/www/afroblog.awardspace.com/php/inc/shows.inc.php
on line
54
Deprecated
: Function eregi() is deprecated in
/srv/disk3/afroblog/www/afroblog.awardspace.com/php/inc/shows.inc.php
on line
54
Deprecated
: Function eregi() is deprecated in
/srv/disk3/afroblog/www/afroblog.awardspace.com/php/inc/shows.inc.php
on line
54
Deprecated
: Function eregi() is deprecated in
/srv/disk3/afroblog/www/afroblog.awardspace.com/php/inc/shows.inc.php
on line
54
Deprecated
: Function eregi() is deprecated in
/srv/disk3/afroblog/www/afroblog.awardspace.com/php/inc/shows.inc.php
on line
54
Deprecated
: Function eregi() is deprecated in
/srv/disk3/afroblog/www/afroblog.awardspace.com/php/inc/shows.inc.php
on line
54
Deprecated
: Function eregi() is deprecated in
/srv/disk3/afroblog/www/afroblog.awardspace.com/php/inc/shows.inc.php
on line
54
Deprecated
: Function eregi() is deprecated in
/srv/disk3/afroblog/www/afroblog.awardspace.com/php/inc/shows.inc.php
on line
54
Deprecated
: Function eregi() is deprecated in
/srv/disk3/afroblog/www/afroblog.awardspace.com/php/inc/shows.inc.php
on line
54
Deprecated
: Function eregi() is deprecated in
/srv/disk3/afroblog/www/afroblog.awardspace.com/php/inc/shows.inc.php
on line
54
Deprecated
: Function eregi() is deprecated in
/srv/disk3/afroblog/www/afroblog.awardspace.com/php/inc/shows.inc.php
on line
54
Deprecated
: Function eregi() is deprecated in
/srv/disk3/afroblog/www/afroblog.awardspace.com/php/inc/shows.inc.php
on line
54
Deprecated
: Function eregi() is deprecated in
/srv/disk3/afroblog/www/afroblog.awardspace.com/php/inc/shows.inc.php
on line
54
Deprecated
: Function eregi() is deprecated in
/srv/disk3/afroblog/www/afroblog.awardspace.com/php/inc/shows.inc.php
on line
54
Deprecated
: Function eregi() is deprecated in
/srv/disk3/afroblog/www/afroblog.awardspace.com/php/inc/shows.inc.php
on line
54
Deprecated
: Function eregi() is deprecated in
/srv/disk3/afroblog/www/afroblog.awardspace.com/php/inc/shows.inc.php
on line
54
Deprecated
: Function eregi() is deprecated in
/srv/disk3/afroblog/www/afroblog.awardspace.com/php/inc/shows.inc.php
on line
54
Deprecated
: Function eregi() is deprecated in
/srv/disk3/afroblog/www/afroblog.awardspace.com/php/inc/shows.inc.php
on line
54
Deprecated
: Function eregi() is deprecated in
/srv/disk3/afroblog/www/afroblog.awardspace.com/php/inc/shows.inc.php
on line
54
Deprecated
: Function eregi() is deprecated in
/srv/disk3/afroblog/www/afroblog.awardspace.com/php/inc/shows.inc.php
on line
54
Deprecated
: Function eregi() is deprecated in
/srv/disk3/afroblog/www/afroblog.awardspace.com/php/inc/shows.inc.php
on line
54
Deprecated
: Function eregi() is deprecated in
/srv/disk3/afroblog/www/afroblog.awardspace.com/php/inc/shows.inc.php
on line
54
Deprecated
: Function eregi() is deprecated in
/srv/disk3/afroblog/www/afroblog.awardspace.com/php/inc/shows.inc.php
on line
54
Deprecated
: Function eregi() is deprecated in
/srv/disk3/afroblog/www/afroblog.awardspace.com/php/inc/shows.inc.php
on line
54
Deprecated
: Function eregi() is deprecated in
/srv/disk3/afroblog/www/afroblog.awardspace.com/php/inc/shows.inc.php
on line
54
Deprecated
: Function eregi() is deprecated in
/srv/disk3/afroblog/www/afroblog.awardspace.com/php/inc/shows.inc.php
on line
54
Deprecated
: Function eregi() is deprecated in
/srv/disk3/afroblog/www/afroblog.awardspace.com/php/inc/shows.inc.php
on line
54
Deprecated
: Function eregi() is deprecated in
/srv/disk3/afroblog/www/afroblog.awardspace.com/php/inc/shows.inc.php
on line
54
Deprecated
: Function eregi() is deprecated in
/srv/disk3/afroblog/www/afroblog.awardspace.com/php/inc/shows.inc.php
on line
54
Deprecated
: Function eregi() is deprecated in
/srv/disk3/afroblog/www/afroblog.awardspace.com/php/inc/shows.inc.php
on line
54
Deprecated
: Function eregi() is deprecated in
/srv/disk3/afroblog/www/afroblog.awardspace.com/php/inc/shows.inc.php
on line
54
Deprecated
: Function eregi() is deprecated in
/srv/disk3/afroblog/www/afroblog.awardspace.com/php/inc/shows.inc.php
on line
54
Deprecated
: Function eregi() is deprecated in
/srv/disk3/afroblog/www/afroblog.awardspace.com/php/inc/shows.inc.php
on line
54
Deprecated
: Function eregi() is deprecated in
/srv/disk3/afroblog/www/afroblog.awardspace.com/php/inc/shows.inc.php
on line
54
Deprecated
: Function eregi() is deprecated in
/srv/disk3/afroblog/www/afroblog.awardspace.com/php/inc/shows.inc.php
on line
54
Deprecated
: Function eregi() is deprecated in
/srv/disk3/afroblog/www/afroblog.awardspace.com/php/inc/shows.inc.php
on line
54
Deprecated
: Function eregi() is deprecated in
/srv/disk3/afroblog/www/afroblog.awardspace.com/php/inc/shows.inc.php
on line
54
Deprecated
: Function eregi() is deprecated in
/srv/disk3/afroblog/www/afroblog.awardspace.com/php/inc/shows.inc.php
on line
54
Deprecated
: Function eregi() is deprecated in
/srv/disk3/afroblog/www/afroblog.awardspace.com/php/inc/shows.inc.php
on line
54
Deprecated
: Function eregi() is deprecated in
/srv/disk3/afroblog/www/afroblog.awardspace.com/php/inc/shows.inc.php
on line
54
Deprecated
: Function eregi() is deprecated in
/srv/disk3/afroblog/www/afroblog.awardspace.com/php/inc/shows.inc.php
on line
54
Deprecated
: Function eregi() is deprecated in
/srv/disk3/afroblog/www/afroblog.awardspace.com/php/inc/shows.inc.php
on line
54
Deprecated
: Function eregi() is deprecated in
/srv/disk3/afroblog/www/afroblog.awardspace.com/php/inc/shows.inc.php
on line
54
Deprecated
: Function eregi() is deprecated in
/srv/disk3/afroblog/www/afroblog.awardspace.com/php/inc/shows.inc.php
on line
54
Deprecated
: Function eregi() is deprecated in
/srv/disk3/afroblog/www/afroblog.awardspace.com/php/inc/shows.inc.php
on line
54
Deprecated
: Function eregi() is deprecated in
/srv/disk3/afroblog/www/afroblog.awardspace.com/php/inc/shows.inc.php
on line
54
Deprecated
: Function eregi() is deprecated in
/srv/disk3/afroblog/www/afroblog.awardspace.com/php/inc/shows.inc.php
on line
54
Deprecated
: Function eregi() is deprecated in
/srv/disk3/afroblog/www/afroblog.awardspace.com/php/inc/shows.inc.php
on line
54
Deprecated
: Function eregi() is deprecated in
/srv/disk3/afroblog/www/afroblog.awardspace.com/php/inc/shows.inc.php
on line
54
Deprecated
: Function eregi() is deprecated in
/srv/disk3/afroblog/www/afroblog.awardspace.com/php/inc/shows.inc.php
on line
54
Deprecated
: Function eregi() is deprecated in
/srv/disk3/afroblog/www/afroblog.awardspace.com/php/inc/shows.inc.php
on line
54
Deprecated
: Function eregi() is deprecated in
/srv/disk3/afroblog/www/afroblog.awardspace.com/php/inc/shows.inc.php
on line
54
Deprecated
: Function eregi() is deprecated in
/srv/disk3/afroblog/www/afroblog.awardspace.com/php/inc/shows.inc.php
on line
54
Deprecated
: Function eregi() is deprecated in
/srv/disk3/afroblog/www/afroblog.awardspace.com/php/inc/shows.inc.php
on line
54
Deprecated
: Function eregi() is deprecated in
/srv/disk3/afroblog/www/afroblog.awardspace.com/php/inc/shows.inc.php
on line
54
Deprecated
: Function eregi() is deprecated in
/srv/disk3/afroblog/www/afroblog.awardspace.com/php/inc/shows.inc.php
on line
54
Deprecated
: Function eregi() is deprecated in
/srv/disk3/afroblog/www/afroblog.awardspace.com/php/inc/shows.inc.php
on line
54
Deprecated
: Function eregi() is deprecated in
/srv/disk3/afroblog/www/afroblog.awardspace.com/php/inc/shows.inc.php
on line
54
Deprecated
: Function eregi() is deprecated in
/srv/disk3/afroblog/www/afroblog.awardspace.com/php/inc/shows.inc.php
on line
54
Deprecated
: Function eregi() is deprecated in
/srv/disk3/afroblog/www/afroblog.awardspace.com/php/inc/shows.inc.php
on line
54
Deprecated
: Function eregi() is deprecated in
/srv/disk3/afroblog/www/afroblog.awardspace.com/php/inc/shows.inc.php
on line
54
Deprecated
: Function eregi() is deprecated in
/srv/disk3/afroblog/www/afroblog.awardspace.com/php/inc/shows.inc.php
on line
54
Deprecated
: Function eregi() is deprecated in
/srv/disk3/afroblog/www/afroblog.awardspace.com/php/inc/shows.inc.php
on line
54
Deprecated
: Function eregi() is deprecated in
/srv/disk3/afroblog/www/afroblog.awardspace.com/php/inc/shows.inc.php
on line
54
Deprecated
: Function eregi() is deprecated in
/srv/disk3/afroblog/www/afroblog.awardspace.com/php/inc/shows.inc.php
on line
54
Deprecated
: Function eregi() is deprecated in
/srv/disk3/afroblog/www/afroblog.awardspace.com/php/inc/shows.inc.php
on line
54
Deprecated
: Function eregi() is deprecated in
/srv/disk3/afroblog/www/afroblog.awardspace.com/php/inc/shows.inc.php
on line
54
Deprecated
: Function eregi() is deprecated in
/srv/disk3/afroblog/www/afroblog.awardspace.com/php/inc/shows.inc.php
on line
54
Deprecated
: Function eregi() is deprecated in
/srv/disk3/afroblog/www/afroblog.awardspace.com/php/inc/shows.inc.php
on line
54
Deprecated
: Function eregi() is deprecated in
/srv/disk3/afroblog/www/afroblog.awardspace.com/php/inc/shows.inc.php
on line
54
Deprecated
: Function eregi() is deprecated in
/srv/disk3/afroblog/www/afroblog.awardspace.com/php/inc/shows.inc.php
on line
54
Deprecated
: Function eregi() is deprecated in
/srv/disk3/afroblog/www/afroblog.awardspace.com/php/inc/shows.inc.php
on line
54
Deprecated
: Function eregi() is deprecated in
/srv/disk3/afroblog/www/afroblog.awardspace.com/php/inc/shows.inc.php
on line
54
Deprecated
: Function eregi() is deprecated in
/srv/disk3/afroblog/www/afroblog.awardspace.com/php/inc/shows.inc.php
on line
54
Deprecated
: Function eregi() is deprecated in
/srv/disk3/afroblog/www/afroblog.awardspace.com/php/inc/shows.inc.php
on line
54
Deprecated
: Function eregi() is deprecated in
/srv/disk3/afroblog/www/afroblog.awardspace.com/php/inc/shows.inc.php
on line
54
Deprecated
: Function eregi() is deprecated in
/srv/disk3/afroblog/www/afroblog.awardspace.com/php/inc/shows.inc.php
on line
54
Deprecated
: Function eregi() is deprecated in
/srv/disk3/afroblog/www/afroblog.awardspace.com/php/inc/shows.inc.php
on line
54
Deprecated
: Function eregi() is deprecated in
/srv/disk3/afroblog/www/afroblog.awardspace.com/php/inc/shows.inc.php
on line
54
Deprecated
: Function eregi() is deprecated in
/srv/disk3/afroblog/www/afroblog.awardspace.com/php/inc/shows.inc.php
on line
54
Deprecated
: Function eregi() is deprecated in
/srv/disk3/afroblog/www/afroblog.awardspace.com/php/inc/shows.inc.php
on line
54
Deprecated
: Function eregi() is deprecated in
/srv/disk3/afroblog/www/afroblog.awardspace.com/php/inc/shows.inc.php
on line
54
Deprecated
: Function eregi() is deprecated in
/srv/disk3/afroblog/www/afroblog.awardspace.com/php/inc/shows.inc.php
on line
54
Deprecated
: Function eregi() is deprecated in
/srv/disk3/afroblog/www/afroblog.awardspace.com/php/inc/shows.inc.php
on line
54
Deprecated
: Function eregi() is deprecated in
/srv/disk3/afroblog/www/afroblog.awardspace.com/php/inc/shows.inc.php
on line
54
Deprecated
: Function eregi() is deprecated in
/srv/disk3/afroblog/www/afroblog.awardspace.com/php/inc/shows.inc.php
on line
54
Deprecated
: Function eregi() is deprecated in
/srv/disk3/afroblog/www/afroblog.awardspace.com/php/inc/shows.inc.php
on line
54
Deprecated
: Function eregi() is deprecated in
/srv/disk3/afroblog/www/afroblog.awardspace.com/php/inc/shows.inc.php
on line
54
Deprecated
: Function eregi() is deprecated in
/srv/disk3/afroblog/www/afroblog.awardspace.com/php/inc/shows.inc.php
on line
54
Deprecated
: Function eregi() is deprecated in
/srv/disk3/afroblog/www/afroblog.awardspace.com/php/inc/shows.inc.php
on line
54
Deprecated
: Function eregi() is deprecated in
/srv/disk3/afroblog/www/afroblog.awardspace.com/php/inc/shows.inc.php
on line
54
Deprecated
: Function eregi() is deprecated in
/srv/disk3/afroblog/www/afroblog.awardspace.com/php/inc/shows.inc.php
on line
54
Deprecated
: Function eregi() is deprecated in
/srv/disk3/afroblog/www/afroblog.awardspace.com/php/inc/shows.inc.php
on line
54
Deprecated
: Function eregi() is deprecated in
/srv/disk3/afroblog/www/afroblog.awardspace.com/php/inc/shows.inc.php
on line
54
Deprecated
: Function eregi() is deprecated in
/srv/disk3/afroblog/www/afroblog.awardspace.com/php/inc/shows.inc.php
on line
54
Deprecated
: Function eregi() is deprecated in
/srv/disk3/afroblog/www/afroblog.awardspace.com/php/inc/shows.inc.php
on line
54
Deprecated
: Function eregi() is deprecated in
/srv/disk3/afroblog/www/afroblog.awardspace.com/php/inc/shows.inc.php
on line
54
Deprecated
: Function eregi() is deprecated in
/srv/disk3/afroblog/www/afroblog.awardspace.com/php/inc/shows.inc.php
on line
54
Deprecated
: Function eregi() is deprecated in
/srv/disk3/afroblog/www/afroblog.awardspace.com/php/inc/shows.inc.php
on line
54
Deprecated
: Function eregi() is deprecated in
/srv/disk3/afroblog/www/afroblog.awardspace.com/php/inc/shows.inc.php
on line
54
Deprecated
: Function eregi() is deprecated in
/srv/disk3/afroblog/www/afroblog.awardspace.com/php/inc/shows.inc.php
on line
54
Deprecated
: Function eregi() is deprecated in
/srv/disk3/afroblog/www/afroblog.awardspace.com/php/inc/shows.inc.php
on line
54
Deprecated
: Function eregi() is deprecated in
/srv/disk3/afroblog/www/afroblog.awardspace.com/php/inc/shows.inc.php
on line
54
Deprecated
: Function eregi() is deprecated in
/srv/disk3/afroblog/www/afroblog.awardspace.com/php/inc/shows.inc.php
on line
54
Deprecated
: Function eregi() is deprecated in
/srv/disk3/afroblog/www/afroblog.awardspace.com/php/inc/shows.inc.php
on line
54
Deprecated
: Function eregi() is deprecated in
/srv/disk3/afroblog/www/afroblog.awardspace.com/php/inc/shows.inc.php
on line
54
Deprecated
: Function eregi() is deprecated in
/srv/disk3/afroblog/www/afroblog.awardspace.com/php/inc/shows.inc.php
on line
54
Deprecated
: Function eregi() is deprecated in
/srv/disk3/afroblog/www/afroblog.awardspace.com/php/inc/shows.inc.php
on line
54
Deprecated
: Function eregi() is deprecated in
/srv/disk3/afroblog/www/afroblog.awardspace.com/php/inc/shows.inc.php
on line
54
Deprecated
: Function eregi() is deprecated in
/srv/disk3/afroblog/www/afroblog.awardspace.com/php/inc/shows.inc.php
on line
54
Deprecated
: Function eregi() is deprecated in
/srv/disk3/afroblog/www/afroblog.awardspace.com/php/inc/shows.inc.php
on line
54
Deprecated
: Function eregi() is deprecated in
/srv/disk3/afroblog/www/afroblog.awardspace.com/php/inc/shows.inc.php
on line
54
Deprecated
: Function eregi() is deprecated in
/srv/disk3/afroblog/www/afroblog.awardspace.com/php/inc/shows.inc.php
on line
54
Deprecated
: Function eregi() is deprecated in
/srv/disk3/afroblog/www/afroblog.awardspace.com/php/inc/shows.inc.php
on line
54
Deprecated
: Function eregi() is deprecated in
/srv/disk3/afroblog/www/afroblog.awardspace.com/php/inc/shows.inc.php
on line
54
Deprecated
: Function eregi() is deprecated in
/srv/disk3/afroblog/www/afroblog.awardspace.com/php/inc/shows.inc.php
on line
54
Deprecated
: Function eregi() is deprecated in
/srv/disk3/afroblog/www/afroblog.awardspace.com/php/inc/shows.inc.php
on line
54
Deprecated
: Function eregi() is deprecated in
/srv/disk3/afroblog/www/afroblog.awardspace.com/php/inc/shows.inc.php
on line
54
Deprecated
: Function eregi() is deprecated in
/srv/disk3/afroblog/www/afroblog.awardspace.com/php/inc/shows.inc.php
on line
54
Deprecated
: Function eregi() is deprecated in
/srv/disk3/afroblog/www/afroblog.awardspace.com/php/inc/shows.inc.php
on line
54
Deprecated
: Function eregi() is deprecated in
/srv/disk3/afroblog/www/afroblog.awardspace.com/php/inc/shows.inc.php
on line
54
Deprecated
: Function eregi() is deprecated in
/srv/disk3/afroblog/www/afroblog.awardspace.com/php/inc/shows.inc.php
on line
54
Deprecated
: Function eregi() is deprecated in
/srv/disk3/afroblog/www/afroblog.awardspace.com/php/inc/shows.inc.php
on line
54
Deprecated
: Function eregi() is deprecated in
/srv/disk3/afroblog/www/afroblog.awardspace.com/php/inc/shows.inc.php
on line
54
Deprecated
: Function eregi() is deprecated in
/srv/disk3/afroblog/www/afroblog.awardspace.com/php/inc/shows.inc.php
on line
54
Deprecated
: Function eregi() is deprecated in
/srv/disk3/afroblog/www/afroblog.awardspace.com/php/inc/shows.inc.php
on line
54
Deprecated
: Function eregi() is deprecated in
/srv/disk3/afroblog/www/afroblog.awardspace.com/php/inc/shows.inc.php
on line
54
Deprecated
: Function eregi() is deprecated in
/srv/disk3/afroblog/www/afroblog.awardspace.com/php/inc/shows.inc.php
on line
54
Deprecated
: Function eregi() is deprecated in
/srv/disk3/afroblog/www/afroblog.awardspace.com/php/inc/shows.inc.php
on line
54
Deprecated
: Function eregi() is deprecated in
/srv/disk3/afroblog/www/afroblog.awardspace.com/php/inc/shows.inc.php
on line
54
Deprecated
: Function eregi() is deprecated in
/srv/disk3/afroblog/www/afroblog.awardspace.com/php/inc/shows.inc.php
on line
54
Deprecated
: Function eregi() is deprecated in
/srv/disk3/afroblog/www/afroblog.awardspace.com/php/inc/shows.inc.php
on line
54
Deprecated
: Function eregi() is deprecated in
/srv/disk3/afroblog/www/afroblog.awardspace.com/php/inc/shows.inc.php
on line
54
Deprecated
: Function eregi() is deprecated in
/srv/disk3/afroblog/www/afroblog.awardspace.com/php/inc/shows.inc.php
on line
54
Deprecated
: Function eregi() is deprecated in
/srv/disk3/afroblog/www/afroblog.awardspace.com/php/inc/shows.inc.php
on line
54
Deprecated
: Function eregi() is deprecated in
/srv/disk3/afroblog/www/afroblog.awardspace.com/php/inc/shows.inc.php
on line
54
Deprecated
: Function eregi() is deprecated in
/srv/disk3/afroblog/www/afroblog.awardspace.com/php/inc/shows.inc.php
on line
54
Deprecated
: Function eregi() is deprecated in
/srv/disk3/afroblog/www/afroblog.awardspace.com/php/inc/shows.inc.php
on line
54
Deprecated
: Function eregi() is deprecated in
/srv/disk3/afroblog/www/afroblog.awardspace.com/php/inc/shows.inc.php
on line
54
Deprecated
: Function eregi() is deprecated in
/srv/disk3/afroblog/www/afroblog.awardspace.com/php/inc/shows.inc.php
on line
54
Deprecated
: Function eregi() is deprecated in
/srv/disk3/afroblog/www/afroblog.awardspace.com/php/inc/shows.inc.php
on line
54
Deprecated
: Function eregi() is deprecated in
/srv/disk3/afroblog/www/afroblog.awardspace.com/php/inc/shows.inc.php
on line
54
Deprecated
: Function eregi() is deprecated in
/srv/disk3/afroblog/www/afroblog.awardspace.com/php/inc/shows.inc.php
on line
54
Deprecated
: Function eregi() is deprecated in
/srv/disk3/afroblog/www/afroblog.awardspace.com/php/inc/shows.inc.php
on line
54
Deprecated
: Function eregi() is deprecated in
/srv/disk3/afroblog/www/afroblog.awardspace.com/php/inc/shows.inc.php
on line
54
Deprecated
: Function eregi() is deprecated in
/srv/disk3/afroblog/www/afroblog.awardspace.com/php/inc/shows.inc.php
on line
54
Deprecated
: Function eregi() is deprecated in
/srv/disk3/afroblog/www/afroblog.awardspace.com/php/inc/shows.inc.php
on line
54
Deprecated
: Function eregi() is deprecated in
/srv/disk3/afroblog/www/afroblog.awardspace.com/php/inc/shows.inc.php
on line
54
Deprecated
: Function eregi() is deprecated in
/srv/disk3/afroblog/www/afroblog.awardspace.com/php/inc/shows.inc.php
on line
54
Deprecated
: Function eregi() is deprecated in
/srv/disk3/afroblog/www/afroblog.awardspace.com/php/inc/shows.inc.php
on line
54
Deprecated
: Function eregi() is deprecated in
/srv/disk3/afroblog/www/afroblog.awardspace.com/php/inc/shows.inc.php
on line
54
Deprecated
: Function eregi() is deprecated in
/srv/disk3/afroblog/www/afroblog.awardspace.com/php/inc/shows.inc.php
on line
54
Deprecated
: Function eregi() is deprecated in
/srv/disk3/afroblog/www/afroblog.awardspace.com/php/inc/shows.inc.php
on line
54
Deprecated
: Function eregi() is deprecated in
/srv/disk3/afroblog/www/afroblog.awardspace.com/php/inc/shows.inc.php
on line
54
Deprecated
: Function eregi() is deprecated in
/srv/disk3/afroblog/www/afroblog.awardspace.com/php/inc/shows.inc.php
on line
54
Deprecated
: Function eregi() is deprecated in
/srv/disk3/afroblog/www/afroblog.awardspace.com/php/inc/shows.inc.php
on line
54
Deprecated
: Function eregi() is deprecated in
/srv/disk3/afroblog/www/afroblog.awardspace.com/php/inc/shows.inc.php
on line
54
Deprecated
: Function eregi() is deprecated in
/srv/disk3/afroblog/www/afroblog.awardspace.com/php/inc/shows.inc.php
on line
54
Deprecated
: Function eregi() is deprecated in
/srv/disk3/afroblog/www/afroblog.awardspace.com/php/inc/shows.inc.php
on line
54
Deprecated
: Function eregi() is deprecated in
/srv/disk3/afroblog/www/afroblog.awardspace.com/php/inc/shows.inc.php
on line
54
Deprecated
: Function eregi() is deprecated in
/srv/disk3/afroblog/www/afroblog.awardspace.com/php/inc/shows.inc.php
on line
54
Deprecated
: Function eregi() is deprecated in
/srv/disk3/afroblog/www/afroblog.awardspace.com/php/inc/shows.inc.php
on line
54
Deprecated
: Function eregi() is deprecated in
/srv/disk3/afroblog/www/afroblog.awardspace.com/php/inc/shows.inc.php
on line
54
Deprecated
: Function eregi() is deprecated in
/srv/disk3/afroblog/www/afroblog.awardspace.com/php/inc/shows.inc.php
on line
54
Deprecated
: Function eregi() is deprecated in
/srv/disk3/afroblog/www/afroblog.awardspace.com/php/inc/shows.inc.php
on line
54
Deprecated
: Function eregi() is deprecated in
/srv/disk3/afroblog/www/afroblog.awardspace.com/php/inc/shows.inc.php
on line
54
Deprecated
: Function eregi() is deprecated in
/srv/disk3/afroblog/www/afroblog.awardspace.com/php/inc/shows.inc.php
on line
54
Deprecated
: Function eregi() is deprecated in
/srv/disk3/afroblog/www/afroblog.awardspace.com/php/inc/shows.inc.php
on line
54
Deprecated
: Function eregi() is deprecated in
/srv/disk3/afroblog/www/afroblog.awardspace.com/php/inc/shows.inc.php
on line
54
Deprecated
: Function eregi() is deprecated in
/srv/disk3/afroblog/www/afroblog.awardspace.com/php/inc/shows.inc.php
on line
54
Deprecated
: Function eregi() is deprecated in
/srv/disk3/afroblog/www/afroblog.awardspace.com/php/inc/shows.inc.php
on line
54
Deprecated
: Function eregi() is deprecated in
/srv/disk3/afroblog/www/afroblog.awardspace.com/php/inc/shows.inc.php
on line
54
Deprecated
: Function eregi() is deprecated in
/srv/disk3/afroblog/www/afroblog.awardspace.com/php/inc/shows.inc.php
on line
54
Deprecated
: Function eregi() is deprecated in
/srv/disk3/afroblog/www/afroblog.awardspace.com/php/inc/shows.inc.php
on line
54
Deprecated
: Function eregi() is deprecated in
/srv/disk3/afroblog/www/afroblog.awardspace.com/php/inc/shows.inc.php
on line
54
Deprecated
: Function eregi() is deprecated in
/srv/disk3/afroblog/www/afroblog.awardspace.com/php/inc/shows.inc.php
on line
54
Deprecated
: Function eregi() is deprecated in
/srv/disk3/afroblog/www/afroblog.awardspace.com/php/inc/shows.inc.php
on line
54
Deprecated
: Function eregi() is deprecated in
/srv/disk3/afroblog/www/afroblog.awardspace.com/php/inc/shows.inc.php
on line
54
Deprecated
: Function eregi() is deprecated in
/srv/disk3/afroblog/www/afroblog.awardspace.com/php/inc/shows.inc.php
on line
54
Deprecated
: Function eregi() is deprecated in
/srv/disk3/afroblog/www/afroblog.awardspace.com/php/inc/shows.inc.php
on line
54
Deprecated
: Function eregi() is deprecated in
/srv/disk3/afroblog/www/afroblog.awardspace.com/php/inc/shows.inc.php
on line
54
Deprecated
: Function eregi() is deprecated in
/srv/disk3/afroblog/www/afroblog.awardspace.com/php/inc/shows.inc.php
on line
54
Deprecated
: Function eregi() is deprecated in
/srv/disk3/afroblog/www/afroblog.awardspace.com/php/inc/shows.inc.php
on line
54
Deprecated
: Function eregi() is deprecated in
/srv/disk3/afroblog/www/afroblog.awardspace.com/php/inc/shows.inc.php
on line
54
Deprecated
: Function eregi() is deprecated in
/srv/disk3/afroblog/www/afroblog.awardspace.com/php/inc/shows.inc.php
on line
54
Deprecated
: Function eregi() is deprecated in
/srv/disk3/afroblog/www/afroblog.awardspace.com/php/inc/shows.inc.php
on line
54
Deprecated
: Function eregi() is deprecated in
/srv/disk3/afroblog/www/afroblog.awardspace.com/php/inc/shows.inc.php
on line
54
Deprecated
: Function eregi() is deprecated in
/srv/disk3/afroblog/www/afroblog.awardspace.com/php/inc/shows.inc.php
on line
54
Deprecated
: Function eregi() is deprecated in
/srv/disk3/afroblog/www/afroblog.awardspace.com/php/inc/shows.inc.php
on line
54
Deprecated
: Function eregi() is deprecated in
/srv/disk3/afroblog/www/afroblog.awardspace.com/php/inc/shows.inc.php
on line
54
Deprecated
: Function eregi() is deprecated in
/srv/disk3/afroblog/www/afroblog.awardspace.com/php/inc/shows.inc.php
on line
54
Deprecated
: Function eregi() is deprecated in
/srv/disk3/afroblog/www/afroblog.awardspace.com/php/inc/shows.inc.php
on line
54
Deprecated
: Function eregi() is deprecated in
/srv/disk3/afroblog/www/afroblog.awardspace.com/php/inc/shows.inc.php
on line
54
Deprecated
: Function eregi() is deprecated in
/srv/disk3/afroblog/www/afroblog.awardspace.com/php/inc/shows.inc.php
on line
54
Deprecated
: Function eregi() is deprecated in
/srv/disk3/afroblog/www/afroblog.awardspace.com/php/inc/shows.inc.php
on line
54
Deprecated
: Function eregi() is deprecated in
/srv/disk3/afroblog/www/afroblog.awardspace.com/php/inc/shows.inc.php
on line
54
Deprecated
: Function eregi() is deprecated in
/srv/disk3/afroblog/www/afroblog.awardspace.com/php/inc/shows.inc.php
on line
54
Deprecated
: Function eregi() is deprecated in
/srv/disk3/afroblog/www/afroblog.awardspace.com/php/inc/shows.inc.php
on line
54
Deprecated
: Function eregi() is deprecated in
/srv/disk3/afroblog/www/afroblog.awardspace.com/php/inc/shows.inc.php
on line
54
Deprecated
: Function eregi() is deprecated in
/srv/disk3/afroblog/www/afroblog.awardspace.com/php/inc/shows.inc.php
on line
54
Deprecated
: Function eregi() is deprecated in
/srv/disk3/afroblog/www/afroblog.awardspace.com/php/inc/shows.inc.php
on line
54
Deprecated
: Function eregi() is deprecated in
/srv/disk3/afroblog/www/afroblog.awardspace.com/php/inc/shows.inc.php
on line
54
Deprecated
: Function eregi() is deprecated in
/srv/disk3/afroblog/www/afroblog.awardspace.com/php/inc/shows.inc.php
on line
54
Deprecated
: Function eregi() is deprecated in
/srv/disk3/afroblog/www/afroblog.awardspace.com/php/inc/shows.inc.php
on line
54
Deprecated
: Function eregi() is deprecated in
/srv/disk3/afroblog/www/afroblog.awardspace.com/php/inc/shows.inc.php
on line
54
Deprecated
: Function eregi() is deprecated in
/srv/disk3/afroblog/www/afroblog.awardspace.com/php/inc/shows.inc.php
on line
54
Deprecated
: Function eregi() is deprecated in
/srv/disk3/afroblog/www/afroblog.awardspace.com/php/inc/shows.inc.php
on line
54
Deprecated
: Function eregi() is deprecated in
/srv/disk3/afroblog/www/afroblog.awardspace.com/php/inc/shows.inc.php
on line
54
Deprecated
: Function eregi() is deprecated in
/srv/disk3/afroblog/www/afroblog.awardspace.com/php/inc/shows.inc.php
on line
54
Deprecated
: Function eregi() is deprecated in
/srv/disk3/afroblog/www/afroblog.awardspace.com/php/inc/shows.inc.php
on line
54
Deprecated
: Function eregi() is deprecated in
/srv/disk3/afroblog/www/afroblog.awardspace.com/php/inc/shows.inc.php
on line
54
Deprecated
: Function eregi() is deprecated in
/srv/disk3/afroblog/www/afroblog.awardspace.com/php/inc/shows.inc.php
on line
54
Deprecated
: Function eregi() is deprecated in
/srv/disk3/afroblog/www/afroblog.awardspace.com/php/inc/shows.inc.php
on line
54
Deprecated
: Function eregi() is deprecated in
/srv/disk3/afroblog/www/afroblog.awardspace.com/php/inc/shows.inc.php
on line
54
Deprecated
: Function eregi() is deprecated in
/srv/disk3/afroblog/www/afroblog.awardspace.com/php/inc/shows.inc.php
on line
54
Deprecated
: Function eregi() is deprecated in
/srv/disk3/afroblog/www/afroblog.awardspace.com/php/inc/shows.inc.php
on line
54
Deprecated
: Function eregi() is deprecated in
/srv/disk3/afroblog/www/afroblog.awardspace.com/php/inc/shows.inc.php
on line
54
Deprecated
: Function eregi() is deprecated in
/srv/disk3/afroblog/www/afroblog.awardspace.com/php/inc/shows.inc.php
on line
54
Deprecated
: Function eregi() is deprecated in
/srv/disk3/afroblog/www/afroblog.awardspace.com/php/inc/shows.inc.php
on line
54
Deprecated
: Function eregi() is deprecated in
/srv/disk3/afroblog/www/afroblog.awardspace.com/php/inc/shows.inc.php
on line
54
Deprecated
: Function eregi() is deprecated in
/srv/disk3/afroblog/www/afroblog.awardspace.com/php/inc/shows.inc.php
on line
54
Deprecated
: Function eregi() is deprecated in
/srv/disk3/afroblog/www/afroblog.awardspace.com/php/inc/shows.inc.php
on line
54
Deprecated
: Function eregi() is deprecated in
/srv/disk3/afroblog/www/afroblog.awardspace.com/php/inc/shows.inc.php
on line
54
Deprecated
: Function eregi() is deprecated in
/srv/disk3/afroblog/www/afroblog.awardspace.com/php/inc/shows.inc.php
on line
54
Deprecated
: Function eregi() is deprecated in
/srv/disk3/afroblog/www/afroblog.awardspace.com/php/inc/shows.inc.php
on line
54
Deprecated
: Function eregi() is deprecated in
/srv/disk3/afroblog/www/afroblog.awardspace.com/php/inc/shows.inc.php
on line
54
Deprecated
: Function eregi() is deprecated in
/srv/disk3/afroblog/www/afroblog.awardspace.com/php/inc/shows.inc.php
on line
54
Deprecated
: Function eregi() is deprecated in
/srv/disk3/afroblog/www/afroblog.awardspace.com/php/inc/shows.inc.php
on line
54
Deprecated
: Function eregi() is deprecated in
/srv/disk3/afroblog/www/afroblog.awardspace.com/php/inc/shows.inc.php
on line
54
Deprecated
: Function eregi() is deprecated in
/srv/disk3/afroblog/www/afroblog.awardspace.com/php/inc/shows.inc.php
on line
54
Deprecated
: Function eregi() is deprecated in
/srv/disk3/afroblog/www/afroblog.awardspace.com/php/inc/shows.inc.php
on line
54
Deprecated
: Function eregi() is deprecated in
/srv/disk3/afroblog/www/afroblog.awardspace.com/php/inc/shows.inc.php
on line
54
Deprecated
: Function eregi() is deprecated in
/srv/disk3/afroblog/www/afroblog.awardspace.com/php/inc/shows.inc.php
on line
54
Deprecated
: Function eregi() is deprecated in
/srv/disk3/afroblog/www/afroblog.awardspace.com/php/inc/shows.inc.php
on line
54
Deprecated
: Function eregi() is deprecated in
/srv/disk3/afroblog/www/afroblog.awardspace.com/php/inc/shows.inc.php
on line
54
Deprecated
: Function eregi() is deprecated in
/srv/disk3/afroblog/www/afroblog.awardspace.com/php/inc/shows.inc.php
on line
54
Deprecated
: Function eregi() is deprecated in
/srv/disk3/afroblog/www/afroblog.awardspace.com/php/inc/shows.inc.php
on line
54
Deprecated
: Function eregi() is deprecated in
/srv/disk3/afroblog/www/afroblog.awardspace.com/php/inc/shows.inc.php
on line
54
Deprecated
: Function eregi() is deprecated in
/srv/disk3/afroblog/www/afroblog.awardspace.com/php/inc/shows.inc.php
on line
54
Deprecated
: Function eregi() is deprecated in
/srv/disk3/afroblog/www/afroblog.awardspace.com/php/inc/shows.inc.php
on line
54
Deprecated
: Function eregi() is deprecated in
/srv/disk3/afroblog/www/afroblog.awardspace.com/php/inc/shows.inc.php
on line
54
Deprecated
: Function eregi() is deprecated in
/srv/disk3/afroblog/www/afroblog.awardspace.com/php/inc/shows.inc.php
on line
54
Deprecated
: Function eregi() is deprecated in
/srv/disk3/afroblog/www/afroblog.awardspace.com/php/inc/shows.inc.php
on line
54
Deprecated
: Function eregi() is deprecated in
/srv/disk3/afroblog/www/afroblog.awardspace.com/php/inc/shows.inc.php
on line
54
Deprecated
: Function eregi() is deprecated in
/srv/disk3/afroblog/www/afroblog.awardspace.com/php/inc/shows.inc.php
on line
54
Deprecated
: Function eregi() is deprecated in
/srv/disk3/afroblog/www/afroblog.awardspace.com/php/inc/shows.inc.php
on line
54
Deprecated
: Function eregi() is deprecated in
/srv/disk3/afroblog/www/afroblog.awardspace.com/php/inc/shows.inc.php
on line
54
Deprecated
: Function eregi() is deprecated in
/srv/disk3/afroblog/www/afroblog.awardspace.com/php/inc/shows.inc.php
on line
54
Deprecated
: Function eregi() is deprecated in
/srv/disk3/afroblog/www/afroblog.awardspace.com/php/inc/shows.inc.php
on line
54
Deprecated
: Function eregi() is deprecated in
/srv/disk3/afroblog/www/afroblog.awardspace.com/php/inc/shows.inc.php
on line
54
Deprecated
: Function eregi() is deprecated in
/srv/disk3/afroblog/www/afroblog.awardspace.com/php/inc/shows.inc.php
on line
54
Deprecated
: Function eregi() is deprecated in
/srv/disk3/afroblog/www/afroblog.awardspace.com/php/inc/shows.inc.php
on line
54
Deprecated
: Function eregi() is deprecated in
/srv/disk3/afroblog/www/afroblog.awardspace.com/php/inc/shows.inc.php
on line
54
Deprecated
: Function eregi() is deprecated in
/srv/disk3/afroblog/www/afroblog.awardspace.com/php/inc/shows.inc.php
on line
54
Deprecated
: Function eregi() is deprecated in
/srv/disk3/afroblog/www/afroblog.awardspace.com/php/inc/shows.inc.php
on line
54
Deprecated
: Function eregi() is deprecated in
/srv/disk3/afroblog/www/afroblog.awardspace.com/php/inc/shows.inc.php
on line
54
Deprecated
: Function eregi() is deprecated in
/srv/disk3/afroblog/www/afroblog.awardspace.com/php/inc/shows.inc.php
on line
54
Deprecated
: Function eregi() is deprecated in
/srv/disk3/afroblog/www/afroblog.awardspace.com/php/inc/shows.inc.php
on line
54
Deprecated
: Function eregi() is deprecated in
/srv/disk3/afroblog/www/afroblog.awardspace.com/php/inc/shows.inc.php
on line
54
Deprecated
: Function eregi() is deprecated in
/srv/disk3/afroblog/www/afroblog.awardspace.com/php/inc/shows.inc.php
on line
54
Deprecated
: Function eregi() is deprecated in
/srv/disk3/afroblog/www/afroblog.awardspace.com/php/inc/shows.inc.php
on line
54
Deprecated
: Function eregi() is deprecated in
/srv/disk3/afroblog/www/afroblog.awardspace.com/php/inc/shows.inc.php
on line
54
Deprecated
: Function eregi() is deprecated in
/srv/disk3/afroblog/www/afroblog.awardspace.com/php/inc/shows.inc.php
on line
54
Deprecated
: Function eregi() is deprecated in
/srv/disk3/afroblog/www/afroblog.awardspace.com/php/inc/shows.inc.php
on line
54
Deprecated
: Function eregi() is deprecated in
/srv/disk3/afroblog/www/afroblog.awardspace.com/php/inc/shows.inc.php
on line
54
Deprecated
: Function eregi() is deprecated in
/srv/disk3/afroblog/www/afroblog.awardspace.com/php/inc/shows.inc.php
on line
54
Deprecated
: Function eregi() is deprecated in
/srv/disk3/afroblog/www/afroblog.awardspace.com/php/inc/shows.inc.php
on line
54
Deprecated
: Function eregi() is deprecated in
/srv/disk3/afroblog/www/afroblog.awardspace.com/php/inc/shows.inc.php
on line
54
Deprecated
: Function eregi() is deprecated in
/srv/disk3/afroblog/www/afroblog.awardspace.com/php/inc/shows.inc.php
on line
54
Deprecated
: Function eregi() is deprecated in
/srv/disk3/afroblog/www/afroblog.awardspace.com/php/inc/shows.inc.php
on line
54
Deprecated
: Function eregi() is deprecated in
/srv/disk3/afroblog/www/afroblog.awardspace.com/php/inc/shows.inc.php
on line
54
Deprecated
: Function eregi() is deprecated in
/srv/disk3/afroblog/www/afroblog.awardspace.com/php/inc/shows.inc.php
on line
54
Deprecated
: Function eregi() is deprecated in
/srv/disk3/afroblog/www/afroblog.awardspace.com/php/inc/shows.inc.php
on line
54
Deprecated
: Function eregi() is deprecated in
/srv/disk3/afroblog/www/afroblog.awardspace.com/php/inc/shows.inc.php
on line
54
Deprecated
: Function eregi() is deprecated in
/srv/disk3/afroblog/www/afroblog.awardspace.com/php/inc/shows.inc.php
on line
54
Deprecated
: Function eregi() is deprecated in
/srv/disk3/afroblog/www/afroblog.awardspace.com/php/inc/shows.inc.php
on line
54
Deprecated
: Function eregi() is deprecated in
/srv/disk3/afroblog/www/afroblog.awardspace.com/php/inc/shows.inc.php
on line
54
Deprecated
: Function eregi() is deprecated in
/srv/disk3/afroblog/www/afroblog.awardspace.com/php/inc/shows.inc.php
on line
54
Deprecated
: Function eregi() is deprecated in
/srv/disk3/afroblog/www/afroblog.awardspace.com/php/inc/shows.inc.php
on line
54
Deprecated
: Function eregi() is deprecated in
/srv/disk3/afroblog/www/afroblog.awardspace.com/php/inc/shows.inc.php
on line
54
Deprecated
: Function eregi() is deprecated in
/srv/disk3/afroblog/www/afroblog.awardspace.com/php/inc/shows.inc.php
on line
54
Deprecated
: Function eregi() is deprecated in
/srv/disk3/afroblog/www/afroblog.awardspace.com/php/inc/shows.inc.php
on line
54
Deprecated
: Function eregi() is deprecated in
/srv/disk3/afroblog/www/afroblog.awardspace.com/php/inc/shows.inc.php
on line
54
Deprecated
: Function eregi() is deprecated in
/srv/disk3/afroblog/www/afroblog.awardspace.com/php/inc/shows.inc.php
on line
54
Deprecated
: Function eregi() is deprecated in
/srv/disk3/afroblog/www/afroblog.awardspace.com/php/inc/shows.inc.php
on line
54
Deprecated
: Function eregi() is deprecated in
/srv/disk3/afroblog/www/afroblog.awardspace.com/php/inc/shows.inc.php
on line
54
Deprecated
: Function eregi() is deprecated in
/srv/disk3/afroblog/www/afroblog.awardspace.com/php/inc/shows.inc.php
on line
54
Deprecated
: Function eregi() is deprecated in
/srv/disk3/afroblog/www/afroblog.awardspace.com/php/inc/shows.inc.php
on line
54
Deprecated
: Function eregi() is deprecated in
/srv/disk3/afroblog/www/afroblog.awardspace.com/php/inc/shows.inc.php
on line
54
Deprecated
: Function eregi() is deprecated in
/srv/disk3/afroblog/www/afroblog.awardspace.com/php/inc/shows.inc.php
on line
54
Deprecated
: Function eregi() is deprecated in
/srv/disk3/afroblog/www/afroblog.awardspace.com/php/inc/shows.inc.php
on line
54
Deprecated
: Function eregi() is deprecated in
/srv/disk3/afroblog/www/afroblog.awardspace.com/php/inc/shows.inc.php
on line
54
Deprecated
: Function eregi() is deprecated in
/srv/disk3/afroblog/www/afroblog.awardspace.com/php/inc/shows.inc.php
on line
54
Deprecated
: Function eregi() is deprecated in
/srv/disk3/afroblog/www/afroblog.awardspace.com/php/inc/shows.inc.php
on line
54
Deprecated
: Function eregi() is deprecated in
/srv/disk3/afroblog/www/afroblog.awardspace.com/php/inc/shows.inc.php
on line
54
Deprecated
: Function eregi() is deprecated in
/srv/disk3/afroblog/www/afroblog.awardspace.com/php/inc/shows.inc.php
on line
54
Deprecated
: Function eregi() is deprecated in
/srv/disk3/afroblog/www/afroblog.awardspace.com/php/inc/shows.inc.php
on line
54
Deprecated
: Function eregi() is deprecated in
/srv/disk3/afroblog/www/afroblog.awardspace.com/php/inc/shows.inc.php
on line
54
Deprecated
: Function eregi() is deprecated in
/srv/disk3/afroblog/www/afroblog.awardspace.com/php/inc/shows.inc.php
on line
54
Deprecated
: Function eregi() is deprecated in
/srv/disk3/afroblog/www/afroblog.awardspace.com/php/inc/shows.inc.php
on line
54
Deprecated
: Function eregi() is deprecated in
/srv/disk3/afroblog/www/afroblog.awardspace.com/php/inc/shows.inc.php
on line
54
Deprecated
: Function eregi() is deprecated in
/srv/disk3/afroblog/www/afroblog.awardspace.com/php/inc/shows.inc.php
on line
54
Deprecated
: Function eregi() is deprecated in
/srv/disk3/afroblog/www/afroblog.awardspace.com/php/inc/shows.inc.php
on line
54
Deprecated
: Function eregi() is deprecated in
/srv/disk3/afroblog/www/afroblog.awardspace.com/php/inc/shows.inc.php
on line
54
Deprecated
: Function eregi() is deprecated in
/srv/disk3/afroblog/www/afroblog.awardspace.com/php/inc/shows.inc.php
on line
54
Deprecated
: Function eregi() is deprecated in
/srv/disk3/afroblog/www/afroblog.awardspace.com/php/inc/shows.inc.php
on line
54
Deprecated
: Function eregi() is deprecated in
/srv/disk3/afroblog/www/afroblog.awardspace.com/php/inc/shows.inc.php
on line
54
Deprecated
: Function eregi() is deprecated in
/srv/disk3/afroblog/www/afroblog.awardspace.com/php/inc/shows.inc.php
on line
54
Deprecated
: Function eregi() is deprecated in
/srv/disk3/afroblog/www/afroblog.awardspace.com/php/inc/shows.inc.php
on line
54
Deprecated
: Function eregi() is deprecated in
/srv/disk3/afroblog/www/afroblog.awardspace.com/php/inc/shows.inc.php
on line
54
Deprecated
: Function eregi() is deprecated in
/srv/disk3/afroblog/www/afroblog.awardspace.com/php/inc/shows.inc.php
on line
54
Deprecated
: Function eregi() is deprecated in
/srv/disk3/afroblog/www/afroblog.awardspace.com/php/inc/shows.inc.php
on line
54
Deprecated
: Function eregi() is deprecated in
/srv/disk3/afroblog/www/afroblog.awardspace.com/php/inc/shows.inc.php
on line
54
Deprecated
: Function eregi() is deprecated in
/srv/disk3/afroblog/www/afroblog.awardspace.com/php/inc/shows.inc.php
on line
54
Deprecated
: Function eregi() is deprecated in
/srv/disk3/afroblog/www/afroblog.awardspace.com/php/inc/shows.inc.php
on line
54
Deprecated
: Function eregi() is deprecated in
/srv/disk3/afroblog/www/afroblog.awardspace.com/php/inc/shows.inc.php
on line
54
Deprecated
: Function eregi() is deprecated in
/srv/disk3/afroblog/www/afroblog.awardspace.com/php/inc/shows.inc.php
on line
54
Deprecated
: Function eregi() is deprecated in
/srv/disk3/afroblog/www/afroblog.awardspace.com/php/inc/shows.inc.php
on line
54
Deprecated
: Function eregi() is deprecated in
/srv/disk3/afroblog/www/afroblog.awardspace.com/php/inc/shows.inc.php
on line
54
Deprecated
: Function eregi() is deprecated in
/srv/disk3/afroblog/www/afroblog.awardspace.com/php/inc/shows.inc.php
on line
54
Deprecated
: Function eregi() is deprecated in
/srv/disk3/afroblog/www/afroblog.awardspace.com/php/inc/shows.inc.php
on line
54
Deprecated
: Function eregi() is deprecated in
/srv/disk3/afroblog/www/afroblog.awardspace.com/php/inc/shows.inc.php
on line
54
Deprecated
: Function eregi() is deprecated in
/srv/disk3/afroblog/www/afroblog.awardspace.com/php/inc/shows.inc.php
on line
54
Deprecated
: Function eregi() is deprecated in
/srv/disk3/afroblog/www/afroblog.awardspace.com/php/inc/shows.inc.php
on line
54
Deprecated
: Function eregi() is deprecated in
/srv/disk3/afroblog/www/afroblog.awardspace.com/php/inc/shows.inc.php
on line
54
Deprecated
: Function eregi() is deprecated in
/srv/disk3/afroblog/www/afroblog.awardspace.com/php/inc/shows.inc.php
on line
54
Deprecated
: Function eregi() is deprecated in
/srv/disk3/afroblog/www/afroblog.awardspace.com/php/inc/shows.inc.php
on line
54
Deprecated
: Function eregi() is deprecated in
/srv/disk3/afroblog/www/afroblog.awardspace.com/php/inc/shows.inc.php
on line
54
Deprecated
: Function eregi() is deprecated in
/srv/disk3/afroblog/www/afroblog.awardspace.com/php/inc/shows.inc.php
on line
54
Deprecated
: Function eregi() is deprecated in
/srv/disk3/afroblog/www/afroblog.awardspace.com/php/inc/shows.inc.php
on line
54
Deprecated
: Function eregi() is deprecated in
/srv/disk3/afroblog/www/afroblog.awardspace.com/php/inc/shows.inc.php
on line
54
Deprecated
: Function eregi() is deprecated in
/srv/disk3/afroblog/www/afroblog.awardspace.com/php/inc/shows.inc.php
on line
54
Deprecated
: Function eregi() is deprecated in
/srv/disk3/afroblog/www/afroblog.awardspace.com/php/inc/shows.inc.php
on line
54
Deprecated
: Function eregi() is deprecated in
/srv/disk3/afroblog/www/afroblog.awardspace.com/php/inc/shows.inc.php
on line
54
Deprecated
: Function eregi() is deprecated in
/srv/disk3/afroblog/www/afroblog.awardspace.com/php/inc/shows.inc.php
on line
54
Deprecated
: Function eregi() is deprecated in
/srv/disk3/afroblog/www/afroblog.awardspace.com/php/inc/shows.inc.php
on line
54
Deprecated
: Function eregi() is deprecated in
/srv/disk3/afroblog/www/afroblog.awardspace.com/php/inc/shows.inc.php
on line
54
Deprecated
: Function eregi() is deprecated in
/srv/disk3/afroblog/www/afroblog.awardspace.com/php/inc/shows.inc.php
on line
54
Deprecated
: Function eregi() is deprecated in
/srv/disk3/afroblog/www/afroblog.awardspace.com/php/inc/shows.inc.php
on line
54
Deprecated
: Function eregi() is deprecated in
/srv/disk3/afroblog/www/afroblog.awardspace.com/php/inc/shows.inc.php
on line
54
Deprecated
: Function eregi() is deprecated in
/srv/disk3/afroblog/www/afroblog.awardspace.com/php/inc/shows.inc.php
on line
54
Deprecated
: Function eregi() is deprecated in
/srv/disk3/afroblog/www/afroblog.awardspace.com/php/inc/shows.inc.php
on line
54
Deprecated
: Function eregi() is deprecated in
/srv/disk3/afroblog/www/afroblog.awardspace.com/php/inc/shows.inc.php
on line
54
Deprecated
: Function eregi() is deprecated in
/srv/disk3/afroblog/www/afroblog.awardspace.com/php/inc/shows.inc.php
on line
54
Deprecated
: Function eregi() is deprecated in
/srv/disk3/afroblog/www/afroblog.awardspace.com/php/inc/shows.inc.php
on line
54
Deprecated
: Function eregi() is deprecated in
/srv/disk3/afroblog/www/afroblog.awardspace.com/php/inc/shows.inc.php
on line
54
Deprecated
: Function eregi() is deprecated in
/srv/disk3/afroblog/www/afroblog.awardspace.com/php/inc/shows.inc.php
on line
54
Deprecated
: Function eregi() is deprecated in
/srv/disk3/afroblog/www/afroblog.awardspace.com/php/inc/shows.inc.php
on line
54
Deprecated
: Function eregi() is deprecated in
/srv/disk3/afroblog/www/afroblog.awardspace.com/php/inc/shows.inc.php
on line
54
Deprecated
: Function eregi() is deprecated in
/srv/disk3/afroblog/www/afroblog.awardspace.com/php/inc/shows.inc.php
on line
54
Deprecated
: Function eregi() is deprecated in
/srv/disk3/afroblog/www/afroblog.awardspace.com/php/inc/shows.inc.php
on line
54
Deprecated
: Function eregi() is deprecated in
/srv/disk3/afroblog/www/afroblog.awardspace.com/php/inc/shows.inc.php
on line
54
Deprecated
: Function eregi() is deprecated in
/srv/disk3/afroblog/www/afroblog.awardspace.com/php/inc/shows.inc.php
on line
54
Deprecated
: Function eregi() is deprecated in
/srv/disk3/afroblog/www/afroblog.awardspace.com/php/inc/shows.inc.php
on line
54
Deprecated
: Function eregi() is deprecated in
/srv/disk3/afroblog/www/afroblog.awardspace.com/php/inc/shows.inc.php
on line
54
Deprecated
: Function eregi() is deprecated in
/srv/disk3/afroblog/www/afroblog.awardspace.com/php/inc/shows.inc.php
on line
54
Deprecated
: Function eregi() is deprecated in
/srv/disk3/afroblog/www/afroblog.awardspace.com/php/inc/shows.inc.php
on line
54
Deprecated
: Function eregi() is deprecated in
/srv/disk3/afroblog/www/afroblog.awardspace.com/php/inc/shows.inc.php
on line
54
Deprecated
: Function eregi() is deprecated in
/srv/disk3/afroblog/www/afroblog.awardspace.com/php/inc/shows.inc.php
on line
54
Deprecated
: Function eregi() is deprecated in
/srv/disk3/afroblog/www/afroblog.awardspace.com/php/inc/shows.inc.php
on line
54
Deprecated
: Function eregi() is deprecated in
/srv/disk3/afroblog/www/afroblog.awardspace.com/php/inc/shows.inc.php
on line
54
Deprecated
: Function eregi() is deprecated in
/srv/disk3/afroblog/www/afroblog.awardspace.com/php/inc/shows.inc.php
on line
54
Deprecated
: Function eregi() is deprecated in
/srv/disk3/afroblog/www/afroblog.awardspace.com/php/inc/shows.inc.php
on line
54
Deprecated
: Function eregi() is deprecated in
/srv/disk3/afroblog/www/afroblog.awardspace.com/php/inc/shows.inc.php
on line
54
Deprecated
: Function eregi() is deprecated in
/srv/disk3/afroblog/www/afroblog.awardspace.com/php/inc/shows.inc.php
on line
54
Deprecated
: Function eregi() is deprecated in
/srv/disk3/afroblog/www/afroblog.awardspace.com/php/inc/shows.inc.php
on line
54
Deprecated
: Function eregi() is deprecated in
/srv/disk3/afroblog/www/afroblog.awardspace.com/php/inc/shows.inc.php
on line
54
Deprecated
: Function eregi() is deprecated in
/srv/disk3/afroblog/www/afroblog.awardspace.com/php/inc/shows.inc.php
on line
54
Deprecated
: Function eregi() is deprecated in
/srv/disk3/afroblog/www/afroblog.awardspace.com/php/inc/shows.inc.php
on line
54
Deprecated
: Function eregi() is deprecated in
/srv/disk3/afroblog/www/afroblog.awardspace.com/php/inc/shows.inc.php
on line
54
Deprecated
: Function eregi() is deprecated in
/srv/disk3/afroblog/www/afroblog.awardspace.com/php/inc/shows.inc.php
on line
54
Deprecated
: Function eregi() is deprecated in
/srv/disk3/afroblog/www/afroblog.awardspace.com/php/inc/shows.inc.php
on line
54
Deprecated
: Function eregi() is deprecated in
/srv/disk3/afroblog/www/afroblog.awardspace.com/php/inc/shows.inc.php
on line
54
Deprecated
: Function eregi() is deprecated in
/srv/disk3/afroblog/www/afroblog.awardspace.com/php/inc/shows.inc.php
on line
54
Deprecated
: Function eregi() is deprecated in
/srv/disk3/afroblog/www/afroblog.awardspace.com/php/inc/shows.inc.php
on line
54
Deprecated
: Function eregi() is deprecated in
/srv/disk3/afroblog/www/afroblog.awardspace.com/php/inc/shows.inc.php
on line
54
Deprecated
: Function eregi() is deprecated in
/srv/disk3/afroblog/www/afroblog.awardspace.com/php/inc/shows.inc.php
on line
54
Deprecated
: Function eregi() is deprecated in
/srv/disk3/afroblog/www/afroblog.awardspace.com/php/inc/shows.inc.php
on line
54
Deprecated
: Function eregi() is deprecated in
/srv/disk3/afroblog/www/afroblog.awardspace.com/php/inc/shows.inc.php
on line
54
Deprecated
: Function eregi() is deprecated in
/srv/disk3/afroblog/www/afroblog.awardspace.com/php/inc/shows.inc.php
on line
54
Deprecated
: Function eregi() is deprecated in
/srv/disk3/afroblog/www/afroblog.awardspace.com/php/inc/shows.inc.php
on line
54
Deprecated
: Function eregi() is deprecated in
/srv/disk3/afroblog/www/afroblog.awardspace.com/php/inc/shows.inc.php
on line
54
Deprecated
: Function eregi() is deprecated in
/srv/disk3/afroblog/www/afroblog.awardspace.com/php/inc/shows.inc.php
on line
54
Deprecated
: Function eregi() is deprecated in
/srv/disk3/afroblog/www/afroblog.awardspace.com/php/inc/shows.inc.php
on line
54
Deprecated
: Function eregi() is deprecated in
/srv/disk3/afroblog/www/afroblog.awardspace.com/php/inc/shows.inc.php
on line
54
Deprecated
: Function eregi() is deprecated in
/srv/disk3/afroblog/www/afroblog.awardspace.com/php/inc/shows.inc.php
on line
54
Deprecated
: Function eregi() is deprecated in
/srv/disk3/afroblog/www/afroblog.awardspace.com/php/inc/shows.inc.php
on line
54
Deprecated
: Function eregi() is deprecated in
/srv/disk3/afroblog/www/afroblog.awardspace.com/php/inc/shows.inc.php
on line
54
Deprecated
: Function eregi() is deprecated in
/srv/disk3/afroblog/www/afroblog.awardspace.com/php/inc/shows.inc.php
on line
54
Deprecated
: Function eregi() is deprecated in
/srv/disk3/afroblog/www/afroblog.awardspace.com/php/inc/shows.inc.php
on line
54
Deprecated
: Function eregi() is deprecated in
/srv/disk3/afroblog/www/afroblog.awardspace.com/php/inc/shows.inc.php
on line
54
Deprecated
: Function eregi() is deprecated in
/srv/disk3/afroblog/www/afroblog.awardspace.com/php/inc/shows.inc.php
on line
54
Deprecated
: Function eregi() is deprecated in
/srv/disk3/afroblog/www/afroblog.awardspace.com/php/inc/shows.inc.php
on line
54
Deprecated
: Function eregi() is deprecated in
/srv/disk3/afroblog/www/afroblog.awardspace.com/php/inc/shows.inc.php
on line
54
Deprecated
: Function eregi() is deprecated in
/srv/disk3/afroblog/www/afroblog.awardspace.com/php/inc/shows.inc.php
on line
54
Deprecated
: Function eregi() is deprecated in
/srv/disk3/afroblog/www/afroblog.awardspace.com/php/inc/shows.inc.php
on line
54
Deprecated
: Function eregi() is deprecated in
/srv/disk3/afroblog/www/afroblog.awardspace.com/php/inc/shows.inc.php
on line
54
Deprecated
: Function eregi() is deprecated in
/srv/disk3/afroblog/www/afroblog.awardspace.com/php/inc/shows.inc.php
on line
54
Deprecated
: Function eregi() is deprecated in
/srv/disk3/afroblog/www/afroblog.awardspace.com/php/inc/shows.inc.php
on line
54
Deprecated
: Function eregi() is deprecated in
/srv/disk3/afroblog/www/afroblog.awardspace.com/php/inc/shows.inc.php
on line
54
Deprecated
: Function eregi() is deprecated in
/srv/disk3/afroblog/www/afroblog.awardspace.com/php/inc/shows.inc.php
on line
54
Deprecated
: Function eregi() is deprecated in
/srv/disk3/afroblog/www/afroblog.awardspace.com/php/inc/shows.inc.php
on line
54
Deprecated
: Function eregi() is deprecated in
/srv/disk3/afroblog/www/afroblog.awardspace.com/php/inc/shows.inc.php
on line
54
Deprecated
: Function eregi() is deprecated in
/srv/disk3/afroblog/www/afroblog.awardspace.com/php/inc/shows.inc.php
on line
54
Deprecated
: Function eregi() is deprecated in
/srv/disk3/afroblog/www/afroblog.awardspace.com/php/inc/shows.inc.php
on line
54
Deprecated
: Function eregi() is deprecated in
/srv/disk3/afroblog/www/afroblog.awardspace.com/php/inc/shows.inc.php
on line
54
Deprecated
: Function eregi() is deprecated in
/srv/disk3/afroblog/www/afroblog.awardspace.com/php/inc/shows.inc.php
on line
54
Deprecated
: Function eregi() is deprecated in
/srv/disk3/afroblog/www/afroblog.awardspace.com/php/inc/shows.inc.php
on line
54
Deprecated
: Function eregi() is deprecated in
/srv/disk3/afroblog/www/afroblog.awardspace.com/php/inc/shows.inc.php
on line
54
Deprecated
: Function eregi() is deprecated in
/srv/disk3/afroblog/www/afroblog.awardspace.com/php/inc/shows.inc.php
on line
54
Deprecated
: Function eregi() is deprecated in
/srv/disk3/afroblog/www/afroblog.awardspace.com/php/inc/shows.inc.php
on line
54
Deprecated
: Function eregi() is deprecated in
/srv/disk3/afroblog/www/afroblog.awardspace.com/php/inc/shows.inc.php
on line
54
Deprecated
: Function eregi() is deprecated in
/srv/disk3/afroblog/www/afroblog.awardspace.com/php/inc/shows.inc.php
on line
54
Deprecated
: Function eregi() is deprecated in
/srv/disk3/afroblog/www/afroblog.awardspace.com/php/inc/shows.inc.php
on line
54
Deprecated
: Function eregi() is deprecated in
/srv/disk3/afroblog/www/afroblog.awardspace.com/php/inc/shows.inc.php
on line
54
Deprecated
: Function eregi() is deprecated in
/srv/disk3/afroblog/www/afroblog.awardspace.com/php/inc/shows.inc.php
on line
54
Deprecated
: Function eregi() is deprecated in
/srv/disk3/afroblog/www/afroblog.awardspace.com/php/inc/shows.inc.php
on line
54
Deprecated
: Function eregi() is deprecated in
/srv/disk3/afroblog/www/afroblog.awardspace.com/php/inc/shows.inc.php
on line
54
Deprecated
: Function eregi() is deprecated in
/srv/disk3/afroblog/www/afroblog.awardspace.com/php/inc/shows.inc.php
on line
54
Deprecated
: Function eregi() is deprecated in
/srv/disk3/afroblog/www/afroblog.awardspace.com/php/inc/shows.inc.php
on line
54
Deprecated
: Function eregi() is deprecated in
/srv/disk3/afroblog/www/afroblog.awardspace.com/php/inc/shows.inc.php
on line
54
Deprecated
: Function eregi() is deprecated in
/srv/disk3/afroblog/www/afroblog.awardspace.com/php/inc/shows.inc.php
on line
54
Deprecated
: Function eregi() is deprecated in
/srv/disk3/afroblog/www/afroblog.awardspace.com/php/inc/shows.inc.php
on line
54
Deprecated
: Function eregi() is deprecated in
/srv/disk3/afroblog/www/afroblog.awardspace.com/php/inc/shows.inc.php
on line
54
Deprecated
: Function eregi() is deprecated in
/srv/disk3/afroblog/www/afroblog.awardspace.com/php/inc/shows.inc.php
on line
54
Deprecated
: Function eregi() is deprecated in
/srv/disk3/afroblog/www/afroblog.awardspace.com/php/inc/shows.inc.php
on line
54
Deprecated
: Function eregi() is deprecated in
/srv/disk3/afroblog/www/afroblog.awardspace.com/php/inc/shows.inc.php
on line
54
Deprecated
: Function eregi() is deprecated in
/srv/disk3/afroblog/www/afroblog.awardspace.com/php/inc/shows.inc.php
on line
54
Deprecated
: Function eregi() is deprecated in
/srv/disk3/afroblog/www/afroblog.awardspace.com/php/inc/shows.inc.php
on line
54
Deprecated
: Function eregi() is deprecated in
/srv/disk3/afroblog/www/afroblog.awardspace.com/php/inc/shows.inc.php
on line
54
Deprecated
: Function eregi() is deprecated in
/srv/disk3/afroblog/www/afroblog.awardspace.com/php/inc/shows.inc.php
on line
54
Deprecated
: Function eregi() is deprecated in
/srv/disk3/afroblog/www/afroblog.awardspace.com/php/inc/shows.inc.php
on line
54
Deprecated
: Function eregi() is deprecated in
/srv/disk3/afroblog/www/afroblog.awardspace.com/php/inc/shows.inc.php
on line
54
Deprecated
: Function eregi() is deprecated in
/srv/disk3/afroblog/www/afroblog.awardspace.com/php/inc/shows.inc.php
on line
54
Deprecated
: Function eregi() is deprecated in
/srv/disk3/afroblog/www/afroblog.awardspace.com/php/inc/shows.inc.php
on line
54
Deprecated
: Function eregi() is deprecated in
/srv/disk3/afroblog/www/afroblog.awardspace.com/php/inc/shows.inc.php
on line
54
Deprecated
: Function eregi() is deprecated in
/srv/disk3/afroblog/www/afroblog.awardspace.com/php/inc/shows.inc.php
on line
54
Deprecated
: Function eregi() is deprecated in
/srv/disk3/afroblog/www/afroblog.awardspace.com/php/inc/shows.inc.php
on line
54
Deprecated
: Function eregi() is deprecated in
/srv/disk3/afroblog/www/afroblog.awardspace.com/php/inc/shows.inc.php
on line
54
Deprecated
: Function eregi() is deprecated in
/srv/disk3/afroblog/www/afroblog.awardspace.com/php/inc/shows.inc.php
on line
54
Deprecated
: Function eregi() is deprecated in
/srv/disk3/afroblog/www/afroblog.awardspace.com/php/inc/shows.inc.php
on line
54
Deprecated
: Function eregi() is deprecated in
/srv/disk3/afroblog/www/afroblog.awardspace.com/php/inc/shows.inc.php
on line
54
Deprecated
: Function eregi() is deprecated in
/srv/disk3/afroblog/www/afroblog.awardspace.com/php/inc/shows.inc.php
on line
54
Deprecated
: Function eregi() is deprecated in
/srv/disk3/afroblog/www/afroblog.awardspace.com/php/inc/shows.inc.php
on line
54
Deprecated
: Function eregi() is deprecated in
/srv/disk3/afroblog/www/afroblog.awardspace.com/php/inc/shows.inc.php
on line
54
Deprecated
: Function eregi() is deprecated in
/srv/disk3/afroblog/www/afroblog.awardspace.com/php/inc/shows.inc.php
on line
54
Deprecated
: Function eregi() is deprecated in
/srv/disk3/afroblog/www/afroblog.awardspace.com/php/inc/shows.inc.php
on line
54
Deprecated
: Function eregi() is deprecated in
/srv/disk3/afroblog/www/afroblog.awardspace.com/php/inc/shows.inc.php
on line
54
Deprecated
: Function eregi() is deprecated in
/srv/disk3/afroblog/www/afroblog.awardspace.com/php/inc/shows.inc.php
on line
54
Deprecated
: Function eregi() is deprecated in
/srv/disk3/afroblog/www/afroblog.awardspace.com/php/inc/shows.inc.php
on line
54
Deprecated
: Function eregi() is deprecated in
/srv/disk3/afroblog/www/afroblog.awardspace.com/php/inc/shows.inc.php
on line
54
Deprecated
: Function eregi() is deprecated in
/srv/disk3/afroblog/www/afroblog.awardspace.com/php/inc/shows.inc.php
on line
54
Deprecated
: Function eregi() is deprecated in
/srv/disk3/afroblog/www/afroblog.awardspace.com/php/inc/shows.inc.php
on line
54
Deprecated
: Function eregi() is deprecated in
/srv/disk3/afroblog/www/afroblog.awardspace.com/php/inc/shows.inc.php
on line
54
Deprecated
: Function eregi() is deprecated in
/srv/disk3/afroblog/www/afroblog.awardspace.com/php/inc/shows.inc.php
on line
54
Deprecated
: Function eregi() is deprecated in
/srv/disk3/afroblog/www/afroblog.awardspace.com/php/inc/shows.inc.php
on line
54
Deprecated
: Function eregi() is deprecated in
/srv/disk3/afroblog/www/afroblog.awardspace.com/php/inc/shows.inc.php
on line
54
Deprecated
: Function eregi() is deprecated in
/srv/disk3/afroblog/www/afroblog.awardspace.com/php/inc/shows.inc.php
on line
54
Deprecated
: Function eregi() is deprecated in
/srv/disk3/afroblog/www/afroblog.awardspace.com/php/inc/shows.inc.php
on line
54
Deprecated
: Function eregi() is deprecated in
/srv/disk3/afroblog/www/afroblog.awardspace.com/php/inc/shows.inc.php
on line
54
Deprecated
: Function eregi() is deprecated in
/srv/disk3/afroblog/www/afroblog.awardspace.com/php/inc/shows.inc.php
on line
54
Deprecated
: Function eregi() is deprecated in
/srv/disk3/afroblog/www/afroblog.awardspace.com/php/inc/shows.inc.php
on line
54
Deprecated
: Function eregi() is deprecated in
/srv/disk3/afroblog/www/afroblog.awardspace.com/php/inc/shows.inc.php
on line
54
Deprecated
: Function eregi() is deprecated in
/srv/disk3/afroblog/www/afroblog.awardspace.com/php/inc/shows.inc.php
on line
54
Deprecated
: Function eregi() is deprecated in
/srv/disk3/afroblog/www/afroblog.awardspace.com/php/inc/shows.inc.php
on line
54
Deprecated
: Function eregi() is deprecated in
/srv/disk3/afroblog/www/afroblog.awardspace.com/php/inc/shows.inc.php
on line
54
Deprecated
: Function eregi() is deprecated in
/srv/disk3/afroblog/www/afroblog.awardspace.com/php/inc/shows.inc.php
on line
54
Deprecated
: Function eregi() is deprecated in
/srv/disk3/afroblog/www/afroblog.awardspace.com/php/inc/shows.inc.php
on line
54
Deprecated
: Function eregi() is deprecated in
/srv/disk3/afroblog/www/afroblog.awardspace.com/php/inc/shows.inc.php
on line
54
Deprecated
: Function eregi() is deprecated in
/srv/disk3/afroblog/www/afroblog.awardspace.com/php/inc/shows.inc.php
on line
54
Deprecated
: Function eregi() is deprecated in
/srv/disk3/afroblog/www/afroblog.awardspace.com/php/inc/shows.inc.php
on line
54
Deprecated
: Function eregi() is deprecated in
/srv/disk3/afroblog/www/afroblog.awardspace.com/php/inc/shows.inc.php
on line
54
Deprecated
: Function eregi() is deprecated in
/srv/disk3/afroblog/www/afroblog.awardspace.com/php/inc/shows.inc.php
on line
54
Deprecated
: Function eregi() is deprecated in
/srv/disk3/afroblog/www/afroblog.awardspace.com/php/inc/shows.inc.php
on line
54
Deprecated
: Function eregi() is deprecated in
/srv/disk3/afroblog/www/afroblog.awardspace.com/php/inc/shows.inc.php
on line
54
Deprecated
: Function eregi() is deprecated in
/srv/disk3/afroblog/www/afroblog.awardspace.com/php/inc/shows.inc.php
on line
54
Deprecated
: Function eregi() is deprecated in
/srv/disk3/afroblog/www/afroblog.awardspace.com/php/inc/shows.inc.php
on line
54
Deprecated
: Function eregi() is deprecated in
/srv/disk3/afroblog/www/afroblog.awardspace.com/php/inc/shows.inc.php
on line
54
Deprecated
: Function eregi() is deprecated in
/srv/disk3/afroblog/www/afroblog.awardspace.com/php/inc/shows.inc.php
on line
54
Deprecated
: Function eregi() is deprecated in
/srv/disk3/afroblog/www/afroblog.awardspace.com/php/inc/shows.inc.php
on line
54
Deprecated
: Function eregi() is deprecated in
/srv/disk3/afroblog/www/afroblog.awardspace.com/php/inc/shows.inc.php
on line
54
Deprecated
: Function eregi() is deprecated in
/srv/disk3/afroblog/www/afroblog.awardspace.com/php/inc/shows.inc.php
on line
54
Deprecated
: Function eregi() is deprecated in
/srv/disk3/afroblog/www/afroblog.awardspace.com/php/inc/shows.inc.php
on line
54
Deprecated
: Function eregi() is deprecated in
/srv/disk3/afroblog/www/afroblog.awardspace.com/php/inc/shows.inc.php
on line
54
Deprecated
: Function eregi() is deprecated in
/srv/disk3/afroblog/www/afroblog.awardspace.com/php/inc/shows.inc.php
on line
54
Deprecated
: Function eregi() is deprecated in
/srv/disk3/afroblog/www/afroblog.awardspace.com/php/inc/shows.inc.php
on line
54
Deprecated
: Function eregi() is deprecated in
/srv/disk3/afroblog/www/afroblog.awardspace.com/php/inc/shows.inc.php
on line
54
Deprecated
: Function eregi() is deprecated in
/srv/disk3/afroblog/www/afroblog.awardspace.com/php/inc/shows.inc.php
on line
54
Deprecated
: Function eregi() is deprecated in
/srv/disk3/afroblog/www/afroblog.awardspace.com/php/inc/shows.inc.php
on line
54
Deprecated
: Function eregi() is deprecated in
/srv/disk3/afroblog/www/afroblog.awardspace.com/php/inc/shows.inc.php
on line
54
Deprecated
: Function eregi() is deprecated in
/srv/disk3/afroblog/www/afroblog.awardspace.com/php/inc/shows.inc.php
on line
54
Deprecated
: Function eregi() is deprecated in
/srv/disk3/afroblog/www/afroblog.awardspace.com/php/inc/shows.inc.php
on line
54
Deprecated
: Function eregi() is deprecated in
/srv/disk3/afroblog/www/afroblog.awardspace.com/php/inc/shows.inc.php
on line
54
Deprecated
: Function eregi() is deprecated in
/srv/disk3/afroblog/www/afroblog.awardspace.com/php/inc/shows.inc.php
on line
54
Deprecated
: Function eregi() is deprecated in
/srv/disk3/afroblog/www/afroblog.awardspace.com/php/inc/shows.inc.php
on line
54
Deprecated
: Function eregi() is deprecated in
/srv/disk3/afroblog/www/afroblog.awardspace.com/php/inc/shows.inc.php
on line
54
Deprecated
: Function eregi() is deprecated in
/srv/disk3/afroblog/www/afroblog.awardspace.com/php/inc/shows.inc.php
on line
54
Deprecated
: Function eregi() is deprecated in
/srv/disk3/afroblog/www/afroblog.awardspace.com/php/inc/shows.inc.php
on line
54
Deprecated
: Function eregi() is deprecated in
/srv/disk3/afroblog/www/afroblog.awardspace.com/php/inc/shows.inc.php
on line
54
Deprecated
: Function eregi() is deprecated in
/srv/disk3/afroblog/www/afroblog.awardspace.com/php/inc/shows.inc.php
on line
54
Deprecated
: Function eregi() is deprecated in
/srv/disk3/afroblog/www/afroblog.awardspace.com/php/inc/shows.inc.php
on line
54
Deprecated
: Function eregi() is deprecated in
/srv/disk3/afroblog/www/afroblog.awardspace.com/php/inc/shows.inc.php
on line
54
Deprecated
: Function eregi() is deprecated in
/srv/disk3/afroblog/www/afroblog.awardspace.com/php/inc/shows.inc.php
on line
54
Deprecated
: Function eregi() is deprecated in
/srv/disk3/afroblog/www/afroblog.awardspace.com/php/inc/shows.inc.php
on line
54
Deprecated
: Function eregi() is deprecated in
/srv/disk3/afroblog/www/afroblog.awardspace.com/php/inc/shows.inc.php
on line
54
Deprecated
: Function eregi() is deprecated in
/srv/disk3/afroblog/www/afroblog.awardspace.com/php/inc/shows.inc.php
on line
54
Deprecated
: Function eregi() is deprecated in
/srv/disk3/afroblog/www/afroblog.awardspace.com/php/inc/shows.inc.php
on line
54
Deprecated
: Function eregi() is deprecated in
/srv/disk3/afroblog/www/afroblog.awardspace.com/php/inc/shows.inc.php
on line
54
Deprecated
: Function eregi() is deprecated in
/srv/disk3/afroblog/www/afroblog.awardspace.com/php/inc/shows.inc.php
on line
54
Deprecated
: Function eregi() is deprecated in
/srv/disk3/afroblog/www/afroblog.awardspace.com/php/inc/shows.inc.php
on line
54
Deprecated
: Function eregi() is deprecated in
/srv/disk3/afroblog/www/afroblog.awardspace.com/php/inc/shows.inc.php
on line
54
Deprecated
: Function eregi() is deprecated in
/srv/disk3/afroblog/www/afroblog.awardspace.com/php/inc/shows.inc.php
on line
54
Deprecated
: Function eregi() is deprecated in
/srv/disk3/afroblog/www/afroblog.awardspace.com/php/inc/shows.inc.php
on line
54
Deprecated
: Function eregi() is deprecated in
/srv/disk3/afroblog/www/afroblog.awardspace.com/php/inc/shows.inc.php
on line
54
Deprecated
: Function eregi() is deprecated in
/srv/disk3/afroblog/www/afroblog.awardspace.com/php/inc/shows.inc.php
on line
54
Deprecated
: Function eregi() is deprecated in
/srv/disk3/afroblog/www/afroblog.awardspace.com/php/inc/shows.inc.php
on line
54
Deprecated
: Function eregi() is deprecated in
/srv/disk3/afroblog/www/afroblog.awardspace.com/php/inc/shows.inc.php
on line
54
Deprecated
: Function eregi() is deprecated in
/srv/disk3/afroblog/www/afroblog.awardspace.com/php/inc/shows.inc.php
on line
54
Deprecated
: Function eregi() is deprecated in
/srv/disk3/afroblog/www/afroblog.awardspace.com/php/inc/shows.inc.php
on line
54
Deprecated
: Function eregi() is deprecated in
/srv/disk3/afroblog/www/afroblog.awardspace.com/php/inc/shows.inc.php
on line
54
Deprecated
: Function eregi() is deprecated in
/srv/disk3/afroblog/www/afroblog.awardspace.com/php/inc/shows.inc.php
on line
54
Deprecated
: Function eregi() is deprecated in
/srv/disk3/afroblog/www/afroblog.awardspace.com/php/inc/shows.inc.php
on line
54
Deprecated
: Function eregi() is deprecated in
/srv/disk3/afroblog/www/afroblog.awardspace.com/php/inc/shows.inc.php
on line
54
Deprecated
: Function eregi() is deprecated in
/srv/disk3/afroblog/www/afroblog.awardspace.com/php/inc/shows.inc.php
on line
54
Deprecated
: Function eregi() is deprecated in
/srv/disk3/afroblog/www/afroblog.awardspace.com/php/inc/shows.inc.php
on line
54
Deprecated
: Function eregi() is deprecated in
/srv/disk3/afroblog/www/afroblog.awardspace.com/php/inc/shows.inc.php
on line
54
Deprecated
: Function eregi() is deprecated in
/srv/disk3/afroblog/www/afroblog.awardspace.com/php/inc/shows.inc.php
on line
54
Deprecated
: Function eregi() is deprecated in
/srv/disk3/afroblog/www/afroblog.awardspace.com/php/inc/shows.inc.php
on line
54
Deprecated
: Function eregi() is deprecated in
/srv/disk3/afroblog/www/afroblog.awardspace.com/php/inc/shows.inc.php
on line
54
Deprecated
: Function eregi() is deprecated in
/srv/disk3/afroblog/www/afroblog.awardspace.com/php/inc/shows.inc.php
on line
54
Deprecated
: Function eregi() is deprecated in
/srv/disk3/afroblog/www/afroblog.awardspace.com/php/inc/shows.inc.php
on line
54
Deprecated
: Function eregi() is deprecated in
/srv/disk3/afroblog/www/afroblog.awardspace.com/php/inc/shows.inc.php
on line
54
Deprecated
: Function eregi() is deprecated in
/srv/disk3/afroblog/www/afroblog.awardspace.com/php/inc/shows.inc.php
on line
54
Deprecated
: Function eregi() is deprecated in
/srv/disk3/afroblog/www/afroblog.awardspace.com/php/inc/shows.inc.php
on line
54
Deprecated
: Function eregi() is deprecated in
/srv/disk3/afroblog/www/afroblog.awardspace.com/php/inc/shows.inc.php
on line
54
Deprecated
: Function eregi() is deprecated in
/srv/disk3/afroblog/www/afroblog.awardspace.com/php/inc/shows.inc.php
on line
54
Deprecated
: Function eregi() is deprecated in
/srv/disk3/afroblog/www/afroblog.awardspace.com/php/inc/shows.inc.php
on line
54
Deprecated
: Function eregi() is deprecated in
/srv/disk3/afroblog/www/afroblog.awardspace.com/php/inc/shows.inc.php
on line
54
Deprecated
: Function eregi() is deprecated in
/srv/disk3/afroblog/www/afroblog.awardspace.com/php/inc/shows.inc.php
on line
54
Deprecated
: Function eregi() is deprecated in
/srv/disk3/afroblog/www/afroblog.awardspace.com/php/inc/shows.inc.php
on line
54
Deprecated
: Function eregi() is deprecated in
/srv/disk3/afroblog/www/afroblog.awardspace.com/php/inc/shows.inc.php
on line
54
Deprecated
: Function eregi() is deprecated in
/srv/disk3/afroblog/www/afroblog.awardspace.com/php/inc/shows.inc.php
on line
54
Deprecated
: Function eregi() is deprecated in
/srv/disk3/afroblog/www/afroblog.awardspace.com/php/inc/shows.inc.php
on line
54
Deprecated
: Function eregi() is deprecated in
/srv/disk3/afroblog/www/afroblog.awardspace.com/php/inc/shows.inc.php
on line
54
Deprecated
: Function eregi() is deprecated in
/srv/disk3/afroblog/www/afroblog.awardspace.com/php/inc/shows.inc.php
on line
54
Deprecated
: Function eregi() is deprecated in
/srv/disk3/afroblog/www/afroblog.awardspace.com/php/inc/shows.inc.php
on line
54
Deprecated
: Function eregi() is deprecated in
/srv/disk3/afroblog/www/afroblog.awardspace.com/php/inc/shows.inc.php
on line
54
Deprecated
: Function eregi() is deprecated in
/srv/disk3/afroblog/www/afroblog.awardspace.com/php/inc/shows.inc.php
on line
54
Deprecated
: Function eregi() is deprecated in
/srv/disk3/afroblog/www/afroblog.awardspace.com/php/inc/shows.inc.php
on line
54
Deprecated
: Function eregi() is deprecated in
/srv/disk3/afroblog/www/afroblog.awardspace.com/php/inc/shows.inc.php
on line
54
Deprecated
: Function eregi() is deprecated in
/srv/disk3/afroblog/www/afroblog.awardspace.com/php/inc/shows.inc.php
on line
54
Deprecated
: Function eregi() is deprecated in
/srv/disk3/afroblog/www/afroblog.awardspace.com/php/inc/shows.inc.php
on line
54
Deprecated
: Function eregi() is deprecated in
/srv/disk3/afroblog/www/afroblog.awardspace.com/php/inc/shows.inc.php
on line
54
Deprecated
: Function eregi() is deprecated in
/srv/disk3/afroblog/www/afroblog.awardspace.com/php/inc/shows.inc.php
on line
54
Deprecated
: Function eregi() is deprecated in
/srv/disk3/afroblog/www/afroblog.awardspace.com/php/inc/shows.inc.php
on line
54
Deprecated
: Function eregi() is deprecated in
/srv/disk3/afroblog/www/afroblog.awardspace.com/php/inc/shows.inc.php
on line
54
Deprecated
: Function eregi() is deprecated in
/srv/disk3/afroblog/www/afroblog.awardspace.com/php/inc/shows.inc.php
on line
54
Deprecated
: Function eregi() is deprecated in
/srv/disk3/afroblog/www/afroblog.awardspace.com/php/inc/shows.inc.php
on line
54
Deprecated
: Function eregi() is deprecated in
/srv/disk3/afroblog/www/afroblog.awardspace.com/php/inc/shows.inc.php
on line
54
Deprecated
: Function eregi() is deprecated in
/srv/disk3/afroblog/www/afroblog.awardspace.com/php/inc/shows.inc.php
on line
54
Deprecated
: Function eregi() is deprecated in
/srv/disk3/afroblog/www/afroblog.awardspace.com/php/inc/shows.inc.php
on line
54
Deprecated
: Function eregi() is deprecated in
/srv/disk3/afroblog/www/afroblog.awardspace.com/php/inc/shows.inc.php
on line
54
Deprecated
: Function eregi() is deprecated in
/srv/disk3/afroblog/www/afroblog.awardspace.com/php/inc/shows.inc.php
on line
54
Deprecated
: Function eregi() is deprecated in
/srv/disk3/afroblog/www/afroblog.awardspace.com/php/inc/shows.inc.php
on line
54
Deprecated
: Function eregi() is deprecated in
/srv/disk3/afroblog/www/afroblog.awardspace.com/php/inc/shows.inc.php
on line
54
Deprecated
: Function eregi() is deprecated in
/srv/disk3/afroblog/www/afroblog.awardspace.com/php/inc/shows.inc.php
on line
54
Deprecated
: Function eregi() is deprecated in
/srv/disk3/afroblog/www/afroblog.awardspace.com/php/inc/shows.inc.php
on line
54
Deprecated
: Function eregi() is deprecated in
/srv/disk3/afroblog/www/afroblog.awardspace.com/php/inc/shows.inc.php
on line
54
Deprecated
: Function eregi() is deprecated in
/srv/disk3/afroblog/www/afroblog.awardspace.com/php/inc/shows.inc.php
on line
54
Deprecated
: Function eregi() is deprecated in
/srv/disk3/afroblog/www/afroblog.awardspace.com/php/inc/shows.inc.php
on line
54
Deprecated
: Function eregi() is deprecated in
/srv/disk3/afroblog/www/afroblog.awardspace.com/php/inc/shows.inc.php
on line
54
Deprecated
: Function eregi() is deprecated in
/srv/disk3/afroblog/www/afroblog.awardspace.com/php/inc/shows.inc.php
on line
54
Deprecated
: Function eregi() is deprecated in
/srv/disk3/afroblog/www/afroblog.awardspace.com/php/inc/shows.inc.php
on line
54
Deprecated
: Function eregi() is deprecated in
/srv/disk3/afroblog/www/afroblog.awardspace.com/php/inc/shows.inc.php
on line
54
Deprecated
: Function eregi() is deprecated in
/srv/disk3/afroblog/www/afroblog.awardspace.com/php/inc/shows.inc.php
on line
54
Deprecated
: Function eregi() is deprecated in
/srv/disk3/afroblog/www/afroblog.awardspace.com/php/inc/shows.inc.php
on line
54
Deprecated
: Function eregi() is deprecated in
/srv/disk3/afroblog/www/afroblog.awardspace.com/php/inc/shows.inc.php
on line
54
Deprecated
: Function eregi() is deprecated in
/srv/disk3/afroblog/www/afroblog.awardspace.com/php/inc/shows.inc.php
on line
54
Deprecated
: Function eregi() is deprecated in
/srv/disk3/afroblog/www/afroblog.awardspace.com/php/inc/shows.inc.php
on line
54
Deprecated
: Function eregi() is deprecated in
/srv/disk3/afroblog/www/afroblog.awardspace.com/php/inc/shows.inc.php
on line
54
Deprecated
: Function eregi() is deprecated in
/srv/disk3/afroblog/www/afroblog.awardspace.com/php/inc/shows.inc.php
on line
54
Deprecated
: Function eregi() is deprecated in
/srv/disk3/afroblog/www/afroblog.awardspace.com/php/inc/shows.inc.php
on line
54
Deprecated
: Function eregi() is deprecated in
/srv/disk3/afroblog/www/afroblog.awardspace.com/php/inc/shows.inc.php
on line
54
Deprecated
: Function eregi() is deprecated in
/srv/disk3/afroblog/www/afroblog.awardspace.com/php/inc/shows.inc.php
on line
54
Deprecated
: Function eregi() is deprecated in
/srv/disk3/afroblog/www/afroblog.awardspace.com/php/inc/shows.inc.php
on line
54
Deprecated
: Function eregi() is deprecated in
/srv/disk3/afroblog/www/afroblog.awardspace.com/php/inc/shows.inc.php
on line
54
Deprecated
: Function eregi() is deprecated in
/srv/disk3/afroblog/www/afroblog.awardspace.com/php/inc/shows.inc.php
on line
54
Deprecated
: Function eregi() is deprecated in
/srv/disk3/afroblog/www/afroblog.awardspace.com/php/inc/shows.inc.php
on line
54
Deprecated
: Function eregi() is deprecated in
/srv/disk3/afroblog/www/afroblog.awardspace.com/php/inc/shows.inc.php
on line
54
Deprecated
: Function eregi() is deprecated in
/srv/disk3/afroblog/www/afroblog.awardspace.com/php/inc/shows.inc.php
on line
54
Deprecated
: Function eregi() is deprecated in
/srv/disk3/afroblog/www/afroblog.awardspace.com/php/inc/shows.inc.php
on line
54
Deprecated
: Function eregi() is deprecated in
/srv/disk3/afroblog/www/afroblog.awardspace.com/php/inc/shows.inc.php
on line
54
Deprecated
: Function eregi() is deprecated in
/srv/disk3/afroblog/www/afroblog.awardspace.com/php/inc/shows.inc.php
on line
54
Deprecated
: Function eregi() is deprecated in
/srv/disk3/afroblog/www/afroblog.awardspace.com/php/inc/shows.inc.php
on line
54
Deprecated
: Function eregi() is deprecated in
/srv/disk3/afroblog/www/afroblog.awardspace.com/php/inc/shows.inc.php
on line
54
Deprecated
: Function eregi() is deprecated in
/srv/disk3/afroblog/www/afroblog.awardspace.com/php/inc/shows.inc.php
on line
54
Deprecated
: Function eregi() is deprecated in
/srv/disk3/afroblog/www/afroblog.awardspace.com/php/inc/shows.inc.php
on line
54
Deprecated
: Function eregi() is deprecated in
/srv/disk3/afroblog/www/afroblog.awardspace.com/php/inc/shows.inc.php
on line
54
Deprecated
: Function eregi() is deprecated in
/srv/disk3/afroblog/www/afroblog.awardspace.com/php/inc/shows.inc.php
on line
54
Madagascar's President Marc Ravalomanana, facing demands from the opposition that he step down from office, told crowds outside his presidential palace on Sunday that he was willing to test his support in a referendum, news organizations reported.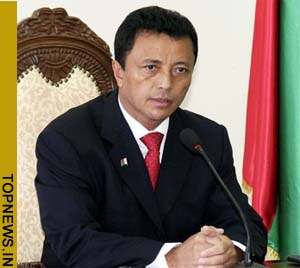 His statement was carried by Agence France-Presse and a BBC World News television bulletin.

On Saturday the opposition, led by the axed mayor of Antananarivo, Andry Rajoelina, claimed power, and Rajoelina gave the president a four-hour deadline to resign. Ravalomanana refused and supporters gathered around his palace to defend him.

AFP reported that he emerged from the palace on Sunday to tell a crowd of 5,000: "I remain in power. I have no fear of a referendum if necessary."
Doctors attending to Prime Minister Morgan Tsvangirai are satisfied with his recovery process after the car crash on Friday which killed his wife, Susan. MDC officials said Tsvangirai might be released from hospital this weekend.


It has emerged that Susan was flung out of the car as it rolled over and it's suspected the vehicle landed on top of her. Rescuers found her 15 metres from the wrecked vehicle, mortally wounded with serious internal injuries and fractures to both legs.
Mogadishu — Fresh fighting between Somali Islamist insurgents and government Soldiers has broken out at Dherkenley district in Mogadishu early on Monday morning, witnesses said.

Residents said that the fighting began after the Somali Islamist fighters have attacked a military base of the government soldiers at around the residences come under Dherkenley district especialy the residences of Dabakyo Madow and Ma'ma'anka in Mogadishu and both militias exchanged heavy weapons as reported.
Somali pirates built up their defences around a captured Saudi Arabian super-tanker Friday after demanding a 25 million dollar ransom.

As foreign navies sent warships to Somalia's dangerous waters and shipping companies sought alternative routes, extra clan militia and other fighters were brought in at the pirate lair of Harardhere, residents said.




"Some of them are inside the town and others are taking shelter in a nearby village and can be called if need be," local resident Mohamed Awale told AFP. He said the fighters had come from neighbouring Gulgudud and Mudug regions.

Local militia and hardline Shebab fighters also arrived in Harardhere in what some residents said was a move to position themselves for a share of any ransom paid.


"There are two armed vehicles belonging to al Shebab. They have reached the town of Harardhere but there are no intentions of attacking the ship from here," a Harardhere Islamist official told AFP by phone.


Dissident members of South Africa's governing African National Congress are gathering in Johannesburg to discuss the formation of a breakaway movement.

More than 4,000 people are expected to attend the two-day convention to draft policies for the new party, expected to challenge the ANC in polls next year.



The bitter ANC split followed last month's swift forced resignation of President Thabo Mbeki.

Police have tightened security around the venue to prevent any violence.

This weekend's meeting will bring together the ANC dissidents as well as some of the country's opposition parties, which now see a political realignment on the horizon.

Biggest crisis

The new party, which does not yet even have a name, is due to be officially launched in December, officials of the movement said.
Talks on rescuing Zimbabwe's power-sharing deal have ended without result but will resume in the morning, key leaders have said.

President Robert Mugabe and opposition leader Morgan Tsvangirai spoke after the first day of talks mediated by ex-South African President Thabo Mbeki.




Mr Mbeki brokered the agreement to share power last month.

Mr Tsvangirai threatened to pull out of it after Mr Mugabe gave key ministries to his own supporters.

The US state department has accused Mr Mugabe of "overstepping the bounds of the agreement".
Also on Tuesday, Zimbabwe's parliament held its first working session under opposition control since the disputed elections earlier this year. MPs heckled each other at the opening.

While the power-sharing crisis continues, life for normal Zimbabweans remains a constant struggle, the BBC's Jonah Fisher reports from neighbouring South Africa.
Just over a month since the Smithsonian Institution announced the discovery of new bird species in Africa, little is still known about the olive-backed forest robin named for its distinctive olive back and rump.

Scientists are trying to unravel the little bird's specific diet, mating and nesting habits, and the species' complete habitat range, but the dense undergrowth of tropical forest where it was sighted may still offer further surprises.

Adult members of the robins - both male and female - measure just about 4.5 inches in length and average 18 grams in weight.

Males exhibit a fiery orange throat and breast, yellow belly, olive back and black feathers on the head. Females are similar, but less vibrant. Both sexes have a distinctive white dot on their face in front of each eye.